Virtual Online Learning is a membership center that was launched: July 3, 2009! The site provides quality online education for eBay sellers, internet marketers, coaching consultants, online merchants and more. Everyone with "something" to sell online can benefit from Virtual Online Learning!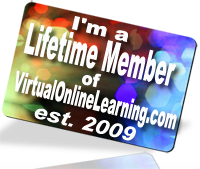 Say hello to a few of our eBay members aka: "Virtualites":
AHOT Stores
Just The Right Thing Store
Roseland
ASAP.Sells.Clothing
Rachels.Wholesale.Cosmetics
Maryland Seamstress Shop
Auction Wonderland
Flamingo Road Boutique
Rae on The Bay
From Yesteryears
Big Creek Surplus
Susan's Emporium
Classics n Collectibles by Cheryl
Allyssabeths-Hidden-Treasures
Shannon717717
Lavishly Hip
It's All WRITE
Grannie Annie's Little Grass Shack
Jas Classic Auto Parts n Treasures
What I desire Vintage Collectibles
Batteries etc.
Sweet Suzie Shop
Dandy Rubber Stamps
Herbs~Crafts~Gifts
All Info 24/7
ElegantKB
StitcheryXPress
BeinleinDesign
YourTeaLife
CaramiasCollection
Sunset Treasure Nook
Flint Hills Clothing and Treasures
PurrFree
Seacoast Bargains
Seasoned With Time
Pemray's Treasures
The Irish Shamrock Company
Pink Hill Vintage
Books Movies Music Software CD/DVD
Designs by Sunnylook
Auctions Shipping and Packaging
Blue Frog Shoes
I Strive for Five Stars
One Crazy Redhead
Galleria Gifts
Model Supplies
Senior Rescue Store
From Yesteryears
Vicky's Place
Dazy's Treasures
Spring Bee Honey
The BEST General Store
Tina's Vintage Treasures
Magies Place
Auction Bump LLC
Bevs This'n That Shop
GG's CLOSET
Molasses Creek Trading
Very Desperate Housewife
Appealing Signs
Diane's Vintage Charms
Hen House Books
Papel1
JewJewTN
The Tool Recyclers
eBook Bounty
Toys4Petz
Fancy.Schmancy.Cosmetics
Our eBay UK Members
BellysBrideGemz
UK Bean Bags
Jan's Megaseller
CrucialMusic
Lindford Direct Auctions
Our Canada Friends
Happy2Ship Curio Shoppe
Our Australia Friends
The Tool Shed
You can be a member too!