8. Hand Finishing – Bakelite was hand carved and hand finished. Evidence of hand carving as well as polish and sanding marks, is a good indicator you have a piece of Bakelite. The cut marks on the bracelet below are a great example.




BAKELITE THAT DOES NOT TEST
There are a few reasons why a piece of Bakelite may not test positive as Bakelite with chemical testing.

1. The piece is coated with a clear or colored finish. The actual Bakelite itself is not exposed to air and there is no reaction to pick up, or because of the thickness of the coating you may not be able to actually access the Bakelite to test it properly.
2. The piece has been tested so much that the "patina" of oxidation has been removed.

3. The piece is new (Fakelite) or a reworked Artist piece (such as a Shultz). The oxidation reaction occurs over time. If you have a newly reworked piece of Bakelite it may take over a year of air exposure for the item to test positive chemically.

4. The piece has been polished with a Simichrome type polish and the oxidation has been removed or completely coated.

5. It is NOT Bakelite.
In the case of black Bakelite much of it does not test positive because it is coated with a resin or epoxy type finish. This is actually common. Much of what is being sold today as Black Bakelite is Bakelite which does not test positive because of a finish coating. A prime example of one of these finishes is when you have a piece of

Bakelite which tests positive with hot water and chemically produces a black stain. These pieces with black finish are so prevalent that the surface texture we often associate being that of black Bakelite is actually a resin finish.

In true Mythbusters tradition we spent some time collecting pieces of black Bakelite which we thought had this resin type coating and would not test positive, as well as pieces we felt would test positive. We spent a lot of time evaluating these items according to our criteria, testing, scratching, and cutting. You would be amazed at what we found. Just because it looks like Bakelite and feels like Bakelite does not make it so when you get home!
FICTION – THE IMPOSTERS!




Fig. 1
Despite the deep carving and bakelite look of these pieces, these are NOT Bakelite. The floral items (Fig. 1 & 2) chemically test with a black stain indicative of the black coating they have. They are both set with older findings which are screwed in and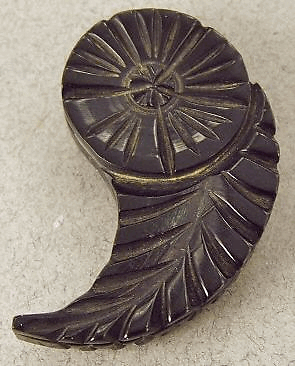 not glued. They are both obviously circa 1930 and are from estates. Neither is quite the right weight for Bakelite and neither passes the hot water test.

The bangle bracelet (Fig. 3) shows no reaction chemically, it has a
very heavy clear finish on it, so even if it was Bakelite it would not test. The bracelet is VERY heavy. It really has the right weight, but does not pass the hot water test. It is in pristine condition. There is not a scratch or blemish to the glossy coating. It is most likely a contemporary piece. My guess would be fakelite or just a really nice carved plastic. The black and red cuff (Fig. 4) is a beauty. This is an old piece and tests black chemically, but fails hot water. It is a fabulous bracelet, but not Bakelite.




Fig 3. Fig. 4