During the 1850's America was changing; both photography and baseball were becoming more popular and teams began posing for photographs. As baseball grew in popularity and became a professional sport in the 1860's, advertising companies took notice and began producing trade cards and individual player portraits on small cards. These cards were produced by a variety of companies and manufacturers.
Peck and Snyder, a Cincinnati based baseball equipment manufacturer, began producing some of the earliest known baseball cards. By the mid 1880's tobacco companies took notice of the new sport's popularity and they began advertising the first tobacco baseball cards.
Goodwin and Company, a New York tobacco manufacturer, began nationally distributing Old Judge and Gypsy Queen cards. The Old Judge set was the first ever large scale baseball card set produced. The complete number of cards and variations is still undetermined and new examples are still emerging.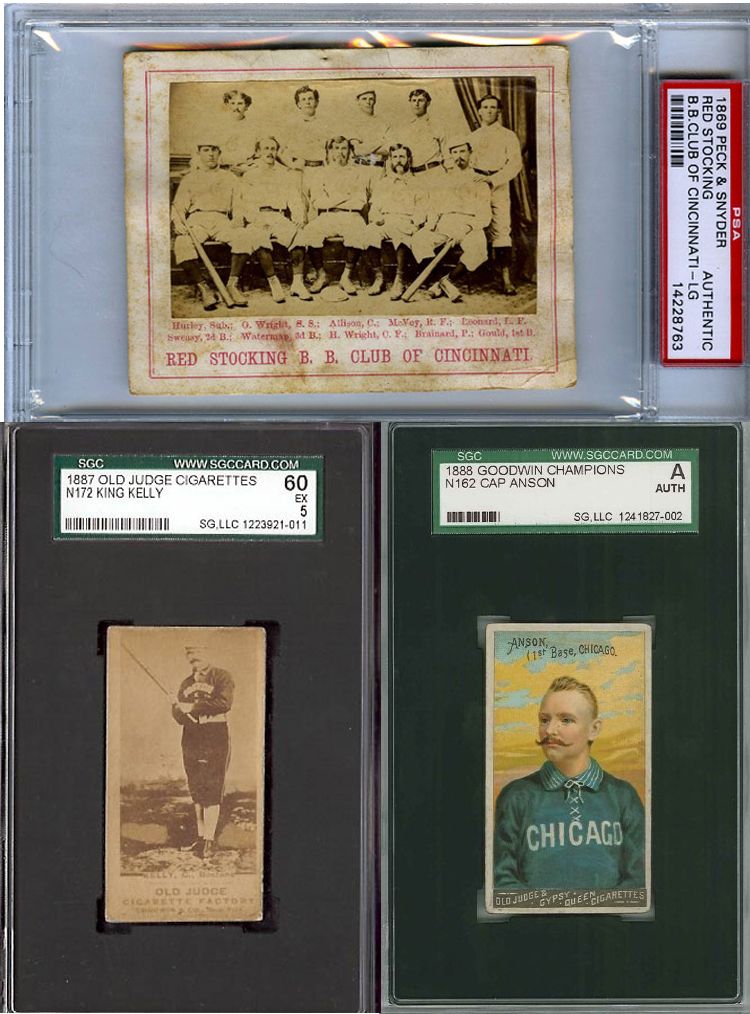 In 1909 the American Tobacco Company introduced their take on advertising cards, producing one of the largest sets of cards ever made, the infamous T206 white borders. This set was amazing and full of pose variations, different advertising backs, errors, short prints and not only major league players but also minor and southern league players. Over the next few years many different companies like Imperial Tobacco, Cabanas, Mecca, Hassan, and many more began their own advertising cards. Soon other companies other than tobacco companies took notice of the new marketing tactic and began producing their own sets and distributing them differently. The American Caramel "Candy" Company produced their first set, the E90-1. The Sporting News magazine sponsored card issues and the Zee Nut cards were first manufactured by Collins-McCarthy in California. In 1914, Rueckheim Bros. and Eckstein, a caramel company, began producing the first candy insert cards in their product, Cracker Jack. The Cracker Jack cards were very popular and were produced for 2 years, 1914 and 1915. The 1914 issue is very difficult to find in high grade and commands a major premium for set builders and collectors.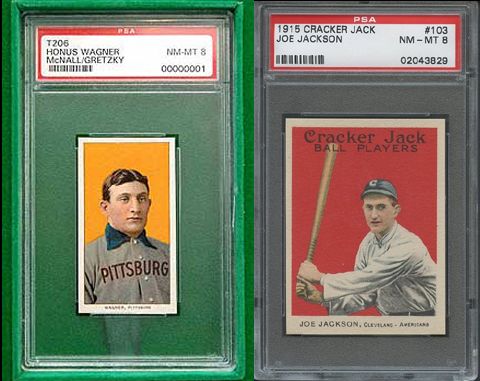 Card manufacturing remained steady until the start of World War I. Once the war began the card industry did not come back around until after the war and the Great Depression. In the 1920's the American Caramel Company began distributing strip-cards, which were strips of cards with many different player portraits on each strip. Also in the early 1920's, the Exhibit Supply Company of Chicago began to release the famous Exhibit card which resembled a post card in size. In the mid 1920's several non-sport Canadian and International companies began to produce baseball cards which are not as heavily desired today but still carry collectible value.
Things started to change in the early 1930's. With the emergence of Gum Inc, US Caramel, National Chicle, Delong and others, production escalated and the hobby grew. In 1933 Gum Inc. produced the Goudey set; with 4 cards of the great Babe Ruth included, the cards were an immediate hit and every kid in the country wanted one. With the depression over, Baseball was in its prime and then World War II started. Baseball card production once again was stopped and would not reemerge until the 1940's. Although Play Ball cards produced by Gum Inc. were manufactured and distributed in 3 sets from 1939-1941. Baseball cards would not truly "bounce back" until the late 1940's. 1948 saw the arrival of 3 new companies; Topps with their magic photo set, Bowman Gum and Leaf Candy.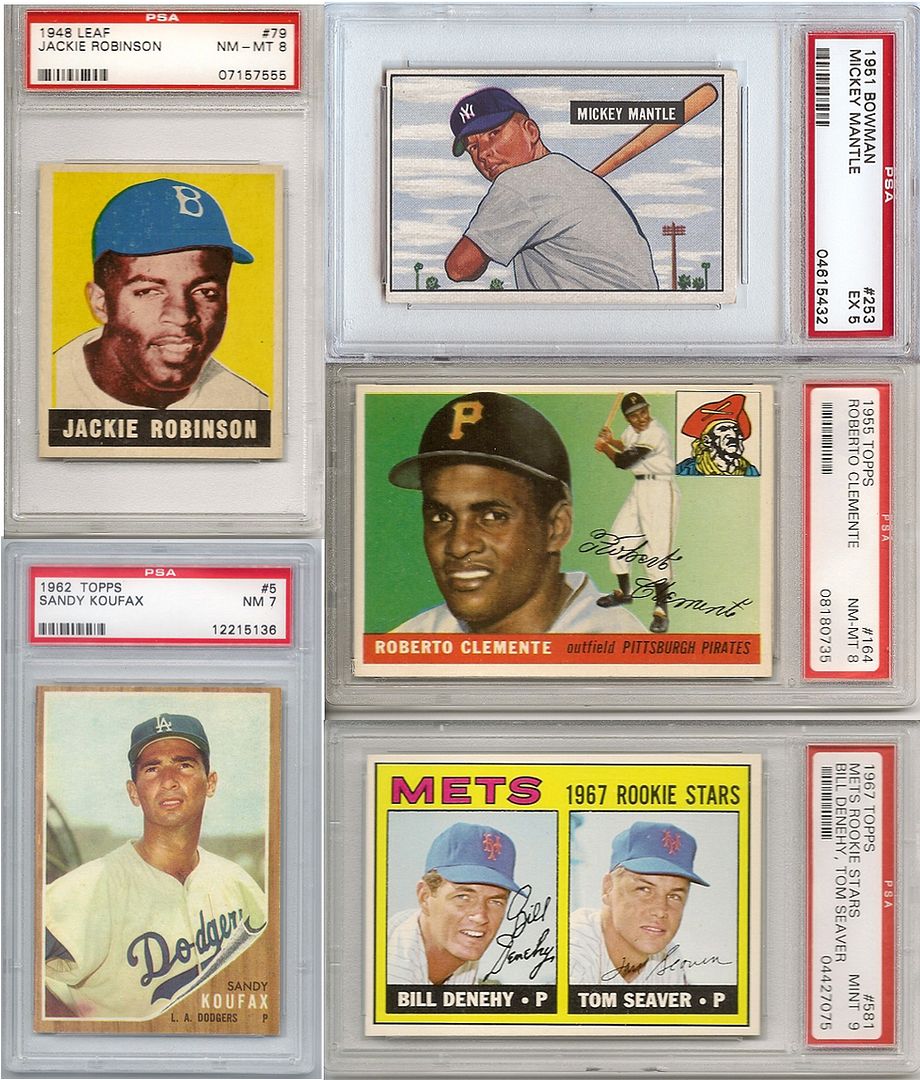 Bowman was the major player in cards for 4 years until 1952 when Topps began producing larger cards. Bowman and Topps competed heavily over player contracts and collectors for 4 years. Topps ultimately won in 1956 when they bought their only competitor Bowman Gum. Topps went virtually unchallenged for 20+ years until the arrival of Donruss and Fleer in the early 1980's. Although in 1959 Fleer did emerge with 3 sets. Topps had a majority of players under contract so Fleer could not compete and produced their last set in 1963 and would not reemerge until 1981.

Many other companies like Kelloggs, Post Cereal, Jell-O, Leaf, Kahn's Hot Dogs, Red Heart Dog Food and Dan Dee Potato Chips produced regional sets throughout the 1950's to the 1970's but were no threat or competition to Topps. In 1965 Topps sold distribution and manufacturing rights to O-Pee-Chee, a Canadian candy company. In 1975 Fleer sued the card giant in an attempt to break up Topps monopoly in the baseball card market. Fleer won the lawsuit and in 1981 Fleer and Donruss began producing their own sets of cards.

In the mid 1980's baseball cards re-entered their prime and it seems that everyone was buying them. As a result the Score Company and Upper Deck emerged into the market with their sets of cards. With all these different companies producing cards and the hobby at its peak, card manufacturers began mass producing cards. This brought about a flooding of the market which has inevitably caused all these "so called investment cards" to be almost worthless. Not all of the cards produced during this era are of no value, they are simply easy to find. As card enthusiasts we should develop an appreciation for these mass produced cards because they are what essentially introduced millions of people to the hobby and helped turn the hobby into what it is today.