Trinket Boxes
Historically, trinket boxes were made of gold and precious metals and adorned with gems. As such, they were all the rage in the Eighteenth Century and were exclusively collected by royalty and members of the nobility. The most famous of the trinket boxes created during this time were the ornate Faberge Eggs crafted for the Russian nobility.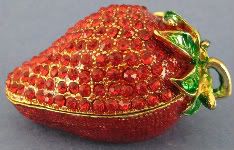 Today trinket boxes come in a wide variety of sizes and styles. Although many are simple wooden, stone or metal boxes, most trinket boxes are decorative pieces of art in and of themselves. Elegant figural trinket boxes are usually crafted of pewter or other metals and are lavishly embellished with enamel and sparkling crystals. Common themes include cultural icons, holidays, landmarks, events, animals, flowers and hobbies.
Trinket boxes are a great way to commemorate an event, trip or milestone. We have trinket boxes in the shape of tennis balls, cows, bowling pins and the Great Wall of China, to name just a few. Check 'em out!
Find Something Fabulous at