Overview: A basic guide for removal and installation of valve seats in OHV motors. See our In-depth Guide for detailed instructions and specifications.
Seat removal and installation in overhead valve motors presents a few challenges. First, the bottom ledges of the seats are not exposed, as they are in the Raptor flathead engines. Second, the exhaust seat is impossible to cut with HSS tooling, and will break apart during the removal procedure.
We recommend replacing the original exhaust seat with an E-Z Bore Animal Exhaust Seat which is made of a softer material to help achieve better valve seal and eliminate valve bounce. These softer (ductile iron) seats eliminate valve face wear and valve sealing issues experienced after the initial build, when compared with the harder OEM valve seats. Our seat removal kit will work equally well on Honda and clone motors as on Briggs Animal motors, but replacement seats are not yet available for these engines.
We offer a full line of high quality, 100% USA made tools specifically designed for quick and easy removal and installation of valve seats.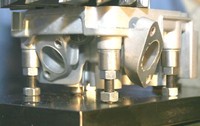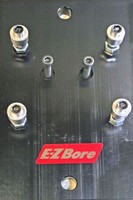 First, it's virtually impossible to perform this type of procedure without a head milling fixture. We offer a high-quality fixture made of one-inch 6061 aluminum plate. The head rests on four adjusting screws, providing the ability to adjust the head at any of the four corners.
Next, our carbide slotting saw inserts in a 1/2" shank and 1/4" arbor to make short work of grooving seats. Carbide is the only material that will penetrate the OEM exhaust seat on Animal and World Formula race engines. 10-tooth cutting blade is 3/4" overall diameter, and is 0.0625" thick. It has a 1/4" center bore for arbor shaft.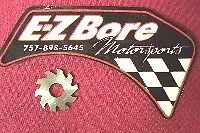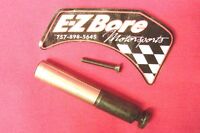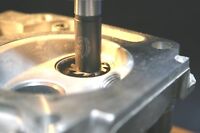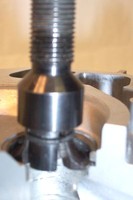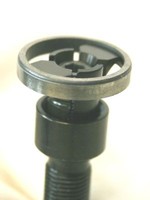 Finally, the E-Z Bore valve seat puller kit comes with a hex mandrel and interchangeable jaws for the intake and exhaust seats. Simply position the mandrel assembly with the correct jaws and expand into the machined groove in the seat. Then place the puller block across the gasket surface and tighten the puller to draw the seat out of the cylinder head.
Puller assembly is made from heat treated and hardened tool steel.
Intake jaw capacity is .950" minimum and 1.050" maximum.
Exhaust jaw capacity is .835 minimum and .935 maximum.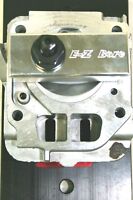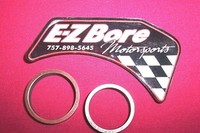 Our replacement Animal/World Formula valve seats are proprietary ductile iron manufactured to extremely tight tolerances, and hardened to RC 32-38. They are machined and finished to appear stock after installation. Valve contact area has minimal chamfer to allow for a higher valve height in cylinder head, but can be machined to achieve stock height.
Intake seat dimensions: 1.130" O.D., .970" I.D., .190" height
Exhaust seat dimensions: 1.011" OlD., .848" I.D., .190" height
Our Animal/World Formula/Quarter Midget valve seat driver is used to install replacement seats in cylinder heads after seat removal. It is manufactured from tool steel.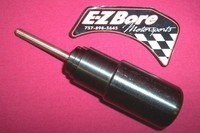 This driver uses a .247" center pilot to maintain alignment with the guides and keep the replacement seat centered during installation. Radius (domed) top aids in maintaining alignment and directing impact through center of the tool. This driver steps for seats measuring .960" and .835" to fit the inside dimensions of our replacement Animal seats.
We also provide machine services for replacing seats in customer's heads.
As always THANKS for your time and business
Remember "The Real Speed is in the Details"