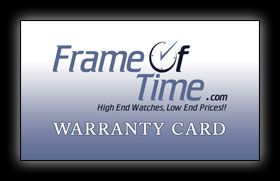 Frame of Time is pleased to offer a one year warranty on any watch purchased from us. Our warranty covers the movement of any watch purchases. All of the watches that we sell have been inspected by trained Jewelers and are guaranteed to be as described and in proper working order. All of our watches are 100% authentic with a money back guarantee based on authenticity. We stand behind our products!

At Frame Of Time, we sell brand name watches at rock bottom prices. We are able to do so because we are liquidators and we are not bound by any companies set price structure that authorized dealers are required to meet. Therefore we can offer substantial discounts on all name brand watches. It should be noted that only authorized dealers can offer a manufacturers warranty. It has been our experience that most brand name watches are of exceptional quality. As long as you are not grossly negligent, you should not have any problem with the watch.

We have a full staff of watchmakers at our disposal. When a repair is required, we can normally have it completed within 14 days. This compares to a typical turnaround time of 60-90 days with a manufacturers warranty.

We have sold over 6,000 watches on eBay to many satisfied customers. We would be very very surprised if you ever had a problem with any watch you purchase from us. If you have any further questions please send us a message through eBay. It will be our pleasure to do whatever we can to make you feel more comfortable about your eBay purchase. We have many repeat customers who have always been satisfied with their purchases. We look forward to supplying your watch and jewelry needs on eBay in the future.