Hauer Music's building on the old canal is not only a regional piece of nostalgia, winning architectural and preservation awards, it is a landmark in the Dayton music scene- selling instruments to musicians who have gone on to make their name in the music business.
Leon Bates and some local students
Over the years, thousands of children have learned to play an instrument at Hauer Music and that tradition continues today. Some of our students are third and even forth generation students.
As a full service independent music store, we're one of the largest around. 42,000 square feet of everything from accordions and harps to xylophones and Zildjian cymbals and a large display of grand pianos including some world class restored classics.
Hauer Music is a full service repair and restoration center. We work on all brands, types and styles of musical instruments. All repairs from minor adjustments to major overhauls such as new instrument pieces, complete refinishing, new necks etc, and will be treated with great care and attention in the most timely manner allowed. Symphony players and professional musicians alike call our repair shop their choice for instrument repairs. Notable performers such as Doc Severenson and Wynton Marsalis count on Hauer Music's expert technicians while in the area.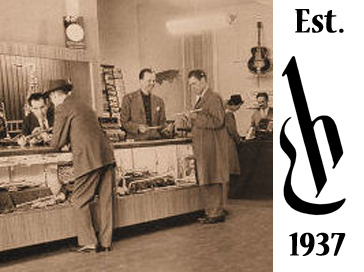 Hauer Music, circa 1937
If you can't find the information you're looking for please call or write. One of our staff will be able to help you.

Thanks for thinking of Hauer Music.
1 800 544-2837
1 800 54-HAUER