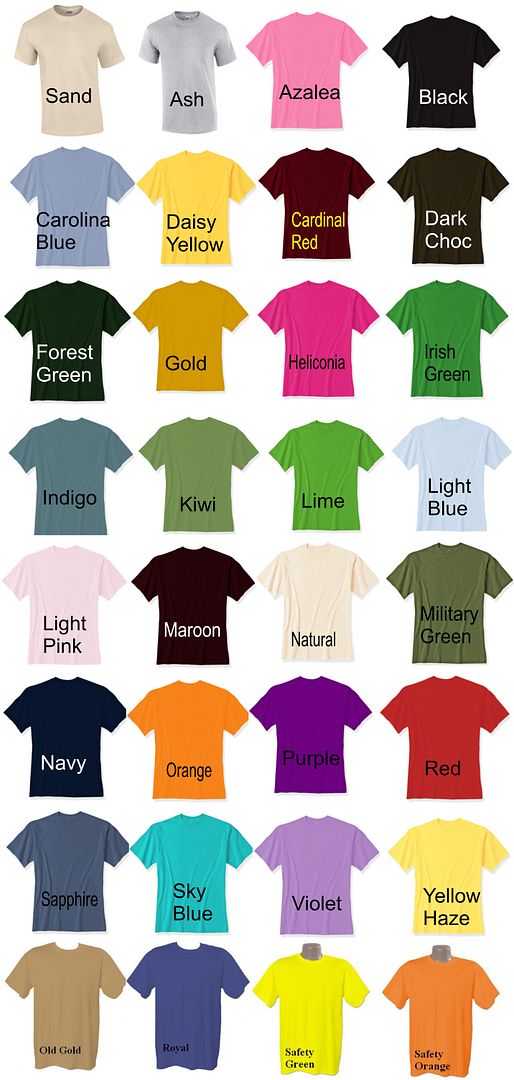 Please note: Not all designs can go on dark colored shirts.

T-SHIRT SIZE CHART
---
Sleeve Length
16 1/2
18
19 1/2
21
22 1/2
24
Body Length (Back)
28
29
30
31
32
33
Chest Width
18
20
22
24
26
28
YOUTH T-SHIRT SIZE CHART
Sleeve Length
11 1/2
13 1/2
14 1/2
15 1/2
16 1/2
Body Length (Back)
18
20 1/2
22
23 1/2
25
Chest Width
14
16
17
18

19
ADULT SWEATSHIRTS
---
Sleeve Length
33
34
35
36
37
38
39
40
Body Length (Back)
26
27
28
29
30
31
32
33
Chest Width
20
22
24
26
28
30
32
34
NOTE: We will not be responsible for shipping on exchanges or refunds due to sizing issues UNLESS the label on the shirt we sent does not match the requested size you ordered. OR unless the shirt we sent you was not a Jerzee, Gildan, Fruit of the Loom, Hanes or Anvil brand. (Or Bayside when ordered)

ABOUT OUR SHIRTS:
We use name brand, shirts. Generally Gildan, Jerzees, Fruit of the Loom, Hanes or Anvil depending on size or color. These shirts are standard shirts. Gildan is our first choice but our supplier has the right to avoid an out of stock and send us a similiar name brand. It is more important for us that we have a shirt in stock and ready for immediete shipment than the brand, so long as it's a name brand. We strive to keep all shirts in all sizes in stock at all times and if we fall short we can generally be back in stock within 3 business days.
For our short sleeve shirts we use mostly high or 100% cotton, heavyweight, pre-shrunk quality. Most long sleeve, sleeveless, sweatshirts and hoodies are generally 50/50 quality or higher.
BEHIND THE SCENES PEEK INTO OUR BUSINESS
Each size and each color and each style get's a drawer of it's own. Currently that's a total of 444 drawers (and growing). We try to keep 6 of each size, color and style in stock for a total inventory of over 2,600 shirts. The last picture in the bottom right is our mail cart of a day's orders ready to walk across the street to the post office.