Welcome to our eBay Store! We are one of America's most experienced recreational and Mil-Pro (military & professional) inflatable boat dealers, with over 35 years in the business. We sell Zodiac, AB, Avon, Bombard, Nautica, and Zoom boats.
We are stocking dealers for Yamaha and Tohatsu outboard engines.
We specialize in rigging boats for Sheriff & Fire departments (and other first responders), as well as local & federal agencies.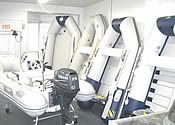 We have a fully stocked Parts & Accessories department, and we are a factory-authorized repair center for all the brands we carry. We do accept boats shipped to us for repair. Please call us for details.

When you order from us, and your order ships via UPS, you will receive a tracking number the next
business day. Use the tool below to track your UPS orders.

Insert up to four tracking numbers: