Thank you for visiting justdeals digital media page!
Justdeals is a full-service distributor specializing in digital imaging and consumer electronic products. We have been in the business for over 18 years and have created a positive reputation in the electronic industry. Justdeals specializes in top-branded, top quality products with the lowest prices on the market. Our product focus includes digital cameras, digital picture frames, cordless phones, personal DVD players, GPS systems, storage media, audio and MP3/MP4 players, and flash memory and much more.
Justdeals makes sure to include the latest products, and best deals on eBay. We currently have over 500,000+ sq. ft. of warehouse space which enables us to carry all inventories in stock and ensures that the customer receives the product in a fast and efficient manner. Our top priority is to make sure that each one of our customer's needs and concerns are meet. In doing this, we make sure to staff our company with well rounded people! Justdeals is proud of our employees as well as serving each and every one of you!
Please read about some of the digital media products we sell below and if you have any questions please feel free to contact us, we will be happy to help in any way that we can.
Polaroid PoGo™ Instant Mobile Printer
---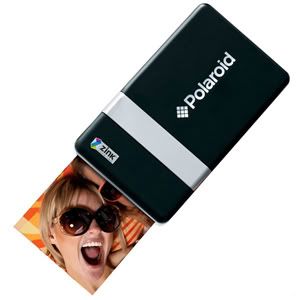 The Polaroid PoGo™ - short for Polaroid-on-the-go - is a pocket-sized, ink-free digital photo printer that produces full-color photos wirelessly from Bluetooth-enabled cell phones and via PictBridge from digital cameras.
Weighing only eight ounces, Polaroid PoGo™ provides consumers with a convenient solution for sharing digital images trapped on cell phones and digital cameras.
Connecting via Bluetooth or PictBridge, Polaroid PoGo™ uses a revolutionary ZINK® Zero Ink® Printing Technology to produce borderless, full-color, 2-inch by 3-inch prints in less than 60 seconds.
Print from your Cell Phone - Instantly
---
If you snap a great photo while you're out about town with friends, why wait to print it? Share the fun right away, with a Polaroid PoGo™ Instant Mobile Printer. Full-color, pocket-sized, sticky-back prints of your cell phone photos are available in about a minute if you have an Instant Mobile Printer in your purse or backpack.
It's simple. Wirelessly transfer an image from your Bluetooth-enabled phone to the Polaroid PoGo Instant Mobile Printer, then print it on the spot.
Never buy ink again. No waste - no ink cartridges.
Print from your Digital Camera - Instantly
---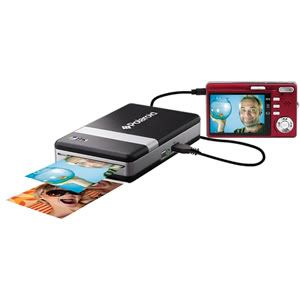 Print digital camera photos as you capture them, just like magic. Talk about instant gratification—you can immediately share real, high-quality prints with friends. No more squinting at a tiny camera screen to imagine the details. No more waiting to get home to connect.
Just link a USB cable from your PictBridge-enabled digital camera to a Polaroid PoGo Instant Mobile Printer. Follow the directions on your camera screen, select the image, and voila! Within 60 seconds you have a fade-resistant, long-lasting print in your hands, ready to share and smile.
Within 60 seconds you have a fade-resistant, long-lasting print in your hands, ready to share and smile.