Coach "Bear" Bryant was such an outstanding coach and wonderful role model for generations of young people.

I created this painting to commemorate his legacy and offer reproductions
of it in 2 sizes and your choice of mat colors. They may be personalized
at no extra charge! (shown framed in a child's room, but the frame
is not included)
Click on the picture for more information or to purchase.
---
NOTICE REGARDING FANATICS
"In Training" prints on eBay by Fanatics are my products, that were produced by me. However, I did not personally sign & number them. They are not available to be personalized and are not printed on the same quality paper I use for my prints here. They have a limited quantity and I will not be replacing them.
---
NOTICE TO CROSS STITCHERS
I'm having a problem with the sale of illegal cross stitch patterns on eBay. (However, eBay is quick to remove them when notified.)


The picture on the left shows how most of the illegal leaflets look. They are printed on white paper without a black border centered on the front of the leaflet.
The picture on the right shows how some of them have been packaged as chart packs, with the pattern folded behind the picture of the design. I have never produced or sold them as chart packs.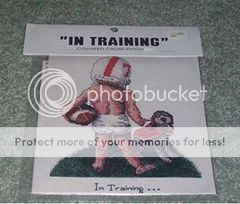 Another problem is that some people are listing my legitimate cross stitch patterns for resell with misleading & incorrect information.They are stating that my patterns are "hard to find", "rare" or "discontinued". While my patterns are certainly unique, they are not at all hard to find & have never been discontinued.

I sell to only a few cross stitch shops because of a serious problem with illegal copies of my patterns being sold in many of them. However, they are always available here in my eBay store.