Welcome to
July 31, 2014
Kristin's Great Finds
Inner Circle Newsletter
Stephen Joseph Backpacks - The Ideal Choice for Younger Children.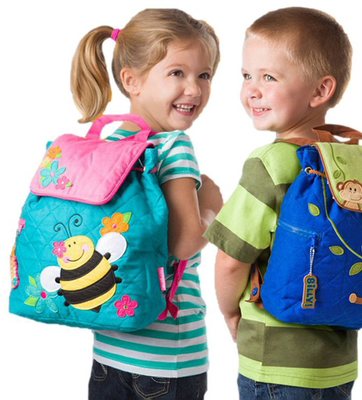 Going to school is an exciting time for kids. They get to make new friends, learn new things and grow as individuals. Part of the school experience is carrying your books and other belongings back and forth from home and to make it more fun, kids need a backpack that is as individual as they are. Backpacks come in all shapes and sizes, just like kids and Stephen Joseph Backpacks have so many different styles you can be sure your little one will find one they love.

Going to school can be an exciting or scary experience for children. You don't want your child to feel out of place but you still want them to be able to be themselves and show their individuality. One way you can help your child show off their personality is through a fun Stephen Joseph Backpack. There are three styles to choose from along with dozens of designs, your little one is certain to find a bag that is the color and theme they love. Having something from home that makes your child happy may even help them feel more confident and enthusiastic about going to school.
Stephen Joseph has made it easy to pick the right size backpack for young children's frame size. You don't want your little one carrying too much weight and putting stress on their backs, shoulders or legs. The backpacks from Stephen Joseph are sized just right for preschool, elementary school and older kids, depending upon the style.
Toddler to young elementary school age children will love the Stephen Joseph Go Go Backpacks. They are ready to hold everything your little one may need for daycare, school or just an afternoon outing. The vinyl bag has a zippered top and adjustable straps. The vibrant designs are amazing in their detail and your little one is sure to find one they love no matter if they are in to ballet, dinosaurs, cupcakes, tractors, fire trucks or one of the other dozens of choices available. Should the Go Go bag get soiled, just wipe it clean with a damp cloth.

Another choice for the younger set are the Stephen Joseph Quilted Backpack. The Quilted backpack is 100% cotton, machine washable, has a drawstring top with a magnetic snap closure and comes with a fun coordinating zipper pull too! Some of the appliqued designs offered in the Quilted line include butterflies, sports, owl, airplane, farm, train and many, many more.

The Stephen Joseph Sidekick Backpack is a great choice for kids up to third of fourth grade. The Sidekick bag has cushioned, adjustable shoulder straps, mesh side pockets and an easy open top zipper making it a breeze for your little one to use. The Sidekick comes in designs such as honey bee, airplane, ladybug, owl, pirate and lots of other fun choices.

Children are actually conscious about fashion and trends, and are easily influenced by their peers. As such, you should allow your child to play the lead role in choosing their Stephen Joseph Backpack. If the child likes their bag, they will probably wear it properly to avoid destroying it.
Learn more about making sure that your child has the right sized backpack by reading our guide How to Fit Your Child for the Perfect Backpack.
Making sure that your little one is decked out in a fun backpack from Kristin's Great Finds will make school more fun. Make sure to take lots of photos of each first day because "It's all about the moment!".