Proper fitting bras are essential for nursing mothers, 8 out of 10 women are wearing the wrong size bra. On average, nursing mothers need 1-2 cup sizes larger than their pre-pregnancy size. A jump in one band size from pre-pregnancy to postpartum is typical too.

Throughout your nursing season, you will rely on your nursing bras both day and night to provide support. Always have several clean bras on hand. Initially a soft cup without underwire is the best first nursing bra. It will flex with your changing body.

The following 3 steps will help you find a size that will fit you so much better, support you so much better, and make you look so much better than anything you have ever worn before.
Using a measuring tape and following the guidelines below will start you on your way to finding a perfect fit.
After successfully nursing 3 children, I have tried every bra out there. Also, I am very familiar with the characteristics of the bras I carry and will do my best to help you in your quest.
Let me know how I may help!
---
How To Measure - in 3 Easy Steps!
Get comfortable! The most accurate measurement is without a bra, especially if you are wearing a padded or underwire bra. Since most women are wearing a cup size that is too small, a bra may smash your breasts down giving you an inaccurate, smaller measurement.
1. First lets work on measuring your band size. This is the measurement under your bust. Make sure to keep the measuring tape level all the way around. Pull the end of the measuring tape all the way around to meet together and make sure the tape is lying flat against your body. The tape needs to be somewhat snug but still comforatble to you and not too tight. It may be a fraction of an inch like 34 1/2 or 36 1/4, that is OK, write this number down to determine your band size.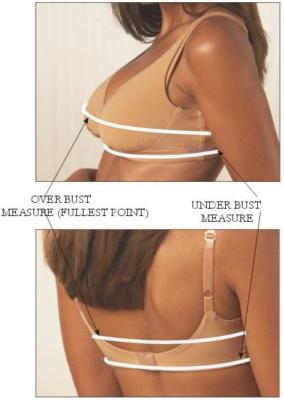 2. Next, measure across the widest, fullest part of your bust. The tape should lie flat, and go straight over both your nipples and straight across your back, parallel to the floor. Write this number down, this too may be a fraction of an inch, for example 36 2/3. That is OK this is your over the bust measurement.
3. Compare your two numbers to the following chart. Your #1 (under the bust) measurement is in column #1, and your #2 (over the bust) measurement is in the chart column #3 below.
It might take several tries with different bras, so don't become discouraged. Email me at info.momplusbaby@gmail.com if you need further help. Please include your two measurements in your email.

Quick Tip - Bra Extenders!
I have successfully nursed all 3 of my children, and my body never went through such drastic fluctuations in size. Each pregnancy and nursing season was a little different. One very affordable solution I found was a bra extender.
These little numbers are wonderful!!! For a very small cost, they are an excellent value! The bra extender seemed to extend the life of my bras so I wouldn't need to get rid of my favorites. Just hook a bra extender on (no sewing required) and 1-3 inches are added when you need just a little extra extension to your band size. What a life saver!!
I always carry bra extenders in 2 and 3 hooks in my store, CLICK HERE to shop at my store now.
Care Guidelines:
It is best to hand wash your nursing bras and allow them to hang dry. Although you might want the convenience of machine washing and drying, this is the fastest way to ruin a bras' construction. If absolutely necessary to machine wash, use the "delicate" or "hand-wash" setting and always use a lingere bag or pillow case to safely enclose your bras.
Adjust straps to desired comfort. Strap adjustment should be checked after repeated washing or if tension is lost.
Troubleshooting for a Great Fitting Bra:
My band in the back rides up...
You need a smaller band size or the hooks need to be tightened.
My bra straps constantly fall off my shoulders...
Your bra band is too large. You probably need to go down a band size (and up a cup size).
My bra straps dig into my shoulders..
Try a larger cup size.
My breasts bulge and "spill out" of my bra...
You may need a larger cup size.
Is there any way to hide or at least smooth my back fat?
You can minimize and sometime eliminate back fat by wearing the proper band size. Your bra should fit lower on your back. Re-measure your band size by going back to step 1 above.