Murray's Collectibles

Maintained by:

THE BEST DEALS ON EBAY! Specializing in Canada, United States and Great Britain. We sell well below catalogue value. DEAL WITH THE PROFESSIONALS!
Canada MINT No Gum Scott Cat #25 3 cent red issued April 1st, 1868 "Large Queen Issue"
Click Here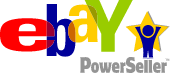 Summer Sizzilin Sale on now!!
***PRICES ARE WAY BELOW CATALOGUE***COMBINED SHIPPING FOR AS MANY ITEMS AS YOU LIKE****