NOTE: we do our best to describe our pelts... All pelts are marked as NEW because they are right from the tanneries and have not been used.
PLEASE READ THE ENTIRE PELT DESCRIPTION before buying. It is possible for a new fur pelt to have a flaw somewhere, and we will always try our best to make note of that in the description.
We offer combined item shipping discounts on all our items. If buying pelts from different listings, PLEASE ask for an invoice BEFORE you pay so we can apply the discounts!
Q. What is the difference between a regular domestic rabbit pelt and a heavy breed rabbit pelt?
A. Size, fur length & skin thickness.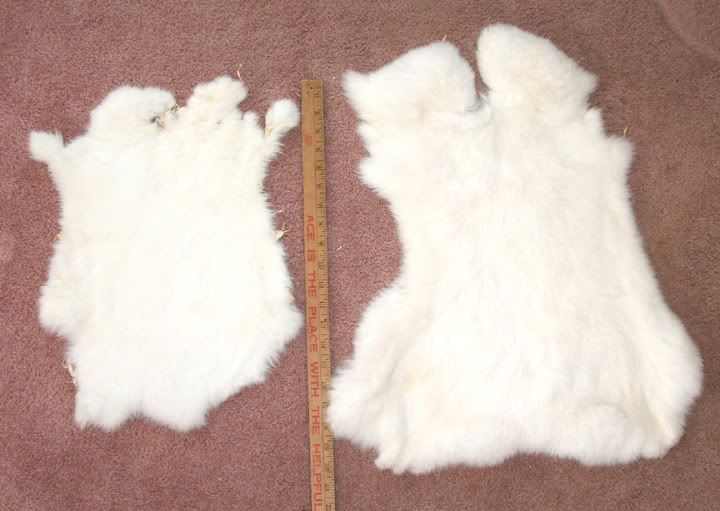 Reg. domestic rabbit pelt Heavy breed rabbit pelt
A regular domestic rabbit pelt averages 9-12" in width at the midpoint and 12-15" lengthwise, measured from bottom center to neck collar. Fur length is typically 1/2 - 3/4" inch.
A heavy breed rabbit pelt is much larger. Average size for a heavy breed rabbit pelt is 12-15" across at the midpoint and 16-21" in length. Fur length is longer...typically 1-1.25" long, but occasionally is 1.5", depending on the pelt.
Skin is also thicker/heavier than on a regular domestic rabbit pelt.
HOW WE MEASURE OUR RABBIT PELTS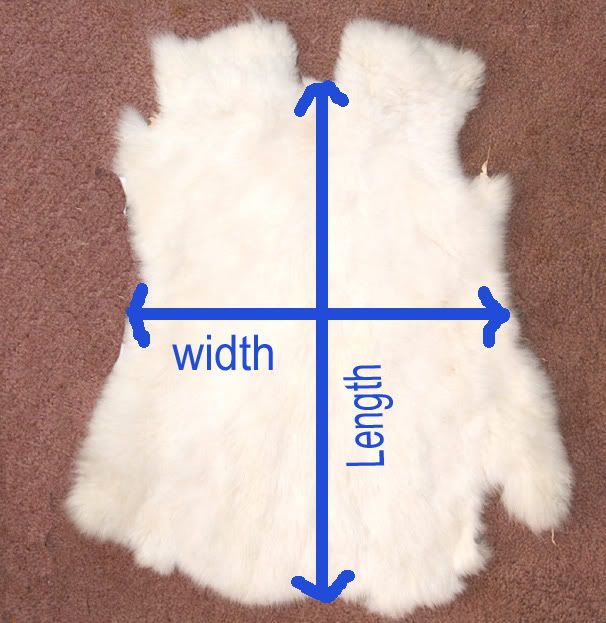 measured on fur side.
width is side to side at the midpoint
Length is measured from bottom to top of collar area in the center of the pelt.
Our Premium Grade Pelts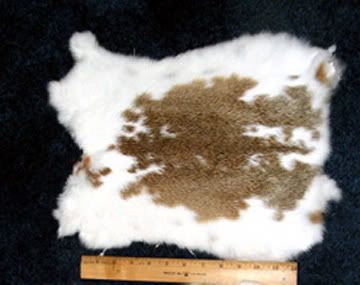 Fur quality is the primary concern. When we say a pelt is premium or top quality, the fur quality will be excellent! The pelt will be fairly symetrically dressed out and there will be no major fur flaws holes or bald spots in the pelt. Minor flaws may be noted in the description. PLEASE READ!
GIFT SHOP GRADE PELTS
If we describe a pelt as a gift shop grade pelt, it is still a decent rabbit pelt with lots of nice usable fur. We use this to describe pelts that are a little rumpled, may have a sm. bald spot , fur flaw or stain, or be asymetrical in shape (poorly dressed out)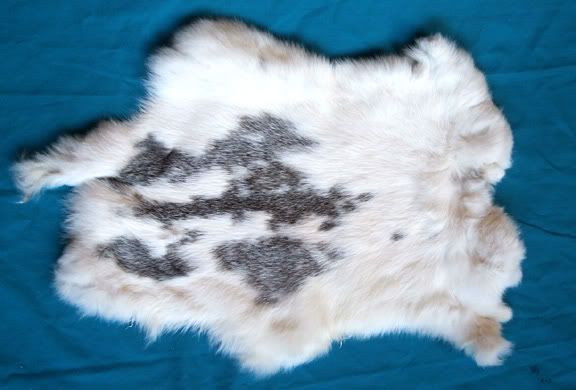 CRAFT GRADE PELTS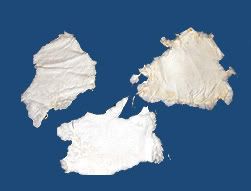 We use this description for pelts that have very large holes in the skin side, are torn badly, have very notable permanent rumples in skin from being bundle tied that affect the fur side, or that have 1 or more lg. bald spots, excessive underfur knots, are very asymentrical in shape (partial pelt) or are heavily stained. These are always discounted in price, but are great for fly tying material, trim work on ceremonial items or the crafter who is cutting the pelts into smaller pieces and does not need a whole perfect pelt.
If you have any questions about a particular pelt or pelt lot, please contact us before buying.
All our rabbit pelts come from domestic rabbits raised for FOOD in Europe or S. America and are a natural by-product (like leather is a by-product from cows)