Warranty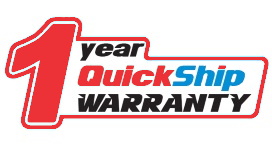 For functionality, this item comes with a 1 year warranty from Quick Ship from the date of delivery. If a problem occurs, we are happy to help you. Please contact us via email with a detailed description of the issue so we can assist. Within the first 60 days, we will send a prepaid shipping label to send the unit back for an exchange or full refund. After 60-day days, buyers are responsible for the shipping costs associated with shipping the item back to us.
We are unable to issue refunds for transactions older than 60 days, but will do our best to either repair your item or provide a comparable replacement.
Turnaround time once the non-working item is received is 1-3 business days, depending on the issue or the extent of testing required.
If an item cannot be replaced due to lack of inventory, a full refund will be issued in place of an exchange.