Sandy's Second Hand Selections

Maintained by:

Welcome to Sandy's Selections. Take time to browse our site while our prices are slashed. We are practically giving it away. Our lease is up and we must reduce our inventory. Take advantage today. We do combine shipping see details.


What is the eBay Bucks Rewards Program?
The eBay Bucks Rewards Program is designed to reward eBay members for purchasing items on www.ebay.com. If you join, you'll automatically accrue rewards in the form of eBay Bucks based on your qualifying purchases. Upon the completion of each calendar quarter, the eBay Bucks you earned over that 3 month period will be issued to you in the form of an eBay Bucks Certificate. You can use this Certificate to buy more things on eBay!

What is not considered a qualifying purchase?
Qualifying purchases excludes all Classifieds, Business & Industrial Capital Equipment, Real Estate, and eBay Motors categories (except Parts & Accessories in eBay Motors, which will earn eBay Bucks).

Does this program cost anything?
Enrollment in eBay Bucks Program and participation are FREE. There is no cost.

What changes for prior Beta Program Participants?
Existing eBay Bucks members do not need to re-enroll. The current earn period as well as your account balance simply continues and you keep racking up Rewards. See Terms & Conditions for recent updates.


---

Enrollment

Can anyone participate?
Participants who:
are legal U.S. residents 18 years of age or older;
have a U.S. registration address tied to their eBay accounts and with an account in good standing (no holds or suspensions); and
have a valid Paypal account or successfully signs up for one and such account is in good standing
can join the eBay Bucks Program.

Can I earn eBay Bucks on multiple accounts?
No. There is a maximum of 1 eBay account per person that can be enrolled in the eBay Bucks Rewards Program. Members are not allowed to have or create multiple eBay Bucks accounts to circumvent the quarterly earn limit, and it is also not permitted to combine or transfer your earn balance from one account to another.

How do I join?
You can join by enrolling or simply by responding to an invitation email that eBay may send from time to time.


---

Earning eBay Bucks

How do I earn eBay Bucks?
Earning eBay Bucks is easy! After you enroll start shopping on eBay and you'll automatically earn eBay Bucks on qualifying purchases. Watch your Bucks pile up for the calendar quarter; after the quarter has ended you will receive an eBay Bucks Certificate for the total amount earned.

Do all my eBay purchases qualify?
Most purchases on eBay qualify, but some restrictions apply. See Terms and Conditions.

For example, to qualify, purchases must be:
Paid for with PayPal

Payment needs to be made on the eBay's checkout system or a customized checkout system. Payments made directly via PayPal to a seller's account aren't eligible

Made AFTER you enroll in the eBay Bucks program (can be winning bid or Buy-it-Now)
Bought on the US eBay site (www.eBay.com). Some third-party automated bidding applications (sniping tools) are actually placing their bids on international sites as opposed to bidding on the US site directly. Purchases completed by these applications do not qualify for eBay Bucks.
Among other restrictions, purchases made in the following categories DO NOT qualify:
All categories in eBay Motors. But note that Parts & Accessories purchases DO qualify
Classifieds
Real Estate
Business & Industrial Capital Equipment, including the following capital equipment categories and the related subcategories:

Agriculture & Forestry > Tractors & Farm Machinery
Construction > Heavy Equipment, Trailers
Food Service & Retail > Concession Trailers & Carts
Healthcare, Lab & Life Science > Imaging & Aesthetics Equipment
Industrial Supply, MRO > Fork Lifts & Other Lifts; Manufacturing & Metalworking > Manufacturing Equipment; Manufacturing & Metalworking > Metalworking Equipment; Office, Printing & Shipping > Commercial Printing Presses
How is the earn amount determined for a qualifying purchase?
The earn amount is calculated by taking the [item price] x [quantity selected] x [earn percentage]. Shipping fees, taxes, and any other seller fees are excluded from this calculation.

What is the earn percentage?
The earn percentage is the percent amount used to calculate how many eBay Bucks a member will earn on qualifying purchases. The current earn percentage is 2%.

Can the earn percentage change?
eBay reserves the right to change the earn percentage up or down. From time to time eBay may offer special promotions that would provide members with extra eBay Bucks or a higher promotional earn percentage for qualifying purchases during the promotion period. If your purchase qualifies for multiple promotions, you will automatically earn credit for the highest value promotional offer.

Are there any limitations on how many eBay Bucks I can earn?
Yes. You can earn:
Up to $200 eBay Bucks on any single eBay purchase. This means that if the eBay Bucks earn percentage is 2% and the purchase price (excluding tax, shipping fees) is in excess of $10,000, you would be restricted from earning any more eBay Bucks for that purchase beyond the $200 eBay Bucks purchase earn limit.
Up to $500 eBay Bucks for all qualifying purchases during a given calendar quarter. This means that if the eBay Bucks earn percentage is 2% and the total value of qualifying purchases exceeds $25,000 during a given calendar quarter, you would be restricted from accumulating any more eBay Bucks beyond the $500 eBay Bucks quarterly earn limit.
For how long can I earn?
You can earn eBay Bucks throughout each calendar quarter. For example, you could earn from July 1 through September 30. Then a new earn period would start on October 1 and run through December 31.

Can I earn eBay Bucks while taking advantage of another eBay promotional program?
Yes, you may earn eBay Bucks in conjunction with most other eBay promotions such as while using an eBay coupon. In fact, we even allow you to earn eBay Bucks on the promotional offer savings amount.

Can I participate without a PayPal account?
No. You can enroll in the eBay Bucks Rewards Program without a PayPal account, but you need to pay for qualifying purchases with PayPal to earn eBay Bucks. If you don't yet have a PayPal account—which is free, by the way—you'll want to get one right after you enroll in the eBay Bucks Rewards Program.

How can I check my eBay Bucks balance?
Go to My eBay and click "eBay Bucks" under the "Buy" heading in the left hand menu bar to see your earn purchase activity and balance.

Why does My eBay show less eBay Bucks than I expected?
The eBay Bucks page in My eBay shows your activity for the current quarter, and the amount you've earned on purchases.

If your purchase has not posted here yet, please wait 48 hours for it to clear. In the rare event that your purchase still doesn't post here after 48 hours, please contact Customer Service.

Some purchases may not qualify for eBay Bucks or may be subject to a restriction. You may be able to identify these purchases as the amount in the earn column should be displayed as a hyperlink. Click that link to learn more about the reason for the restriction.

You should also know that from time to time, purchases may be subject to review, so what first appears as a "$0.00" earning could turn into the earn amount you expected.

If you return a purchase, the eBay Bucks earned for that purchase will be deducted from your Bucks balance total. If the return occurred in the next earn period, you may even start off with a negative balance.

Why can't I see the "Bucks" logo while checking out, it was there on the "View Item" page?
Some sellers host their own checkout pages that integrate directly with eBay and PayPal. Since these pages are not managed by eBay, we cannot show you the "Bucks" earn messaging. Since the Bucks logo on the "View Item" page was visible, you should still earn eBay Bucks for this transaction as long as you pay with PayPal and no other restrictions apply. See Terms and Conditions for any questions on restrictions.


---

Redeeming eBay Bucks

When will I get my eBay Bucks Certificate?
You will get your eBay Bucks Certificate 3-15 days after the end of the quarterly earn period. Please check the eBay Bucks page in My eBay: Keep an eye on the "Certificates" section.

Where can I redeem my eBay Bucks Certificate?
You can redeem your Certificate for any qualifying item on eBay.com that accepts PayPal. See Terms and Conditions for details and restrictions.

How do I redeem my eBay Bucks Certificate using eBay's checkout?
Shop on eBay. Be sure the seller accepts PayPal. 1. Pay for your item with PayPal by the Certificate's expiration date. Your Certificate will be automatically applied when you check out within eBay's checkout system.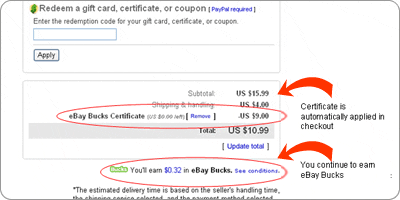 How long do I have to redeem my eBay Bucks Certificate?
Your eBay Bucks Certificate will be good for 30 days upon issue. Please check the eBay Bucks page in My eBay (ebay.com/ebaybucks) for specific dates.

Can I give or sell my eBay Bucks Certificate to another member?
No, eBay Bucks Certificates may only be redeemed by the member it was issued to. eBay Bucks Certificates are non-transferable.

What do I do if my eBay Bucks Certificate isn't automatically applied?
If your Certificate isn't automatically applied (this may happen in some customized checkout systems), just follow these steps:
Get your code from the eBay Bucks section of My eBay.


Continue through the customized checkout experience. You may see promotional code redemption boxes along the way. This is for merchant specific codes provided by the seller. You should not use your code until you are logged into PayPal on the payment page.


Look for the PayPal logo to ensure you are on the PayPal payment page. Enter your code in the redemption box on the PayPal payment page. In some cases, you will first need to click on the "Enter gift certificate, reward, or discount" link to open the redemption box. The red arrows in the screen shots below show you the only two possible places you can enter your eBay Bucks certificate code for redemption.
Note: In a small number of cases, eBay Bucks Certificate redemption is not supported by the customized checkout system. If you experience this issue, please contact us.