We only accept PayPal.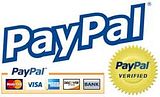 When an item is purchased as a "Buy-It-Now" or your "Best Offer" has been accepted, payment is requested immediately.
For all other items, payment is requested within 24 hours and is late after the 3rd day.
We utilize the eBay recommended "Unpaid Item Assistant" and it will automatically open an unpaid item case after 96 hours.
If you need extra time please let us know before the Unpaid Item Assistant opens the case. Once the case is open, it will remain open until paid or otherwise resolved via eBay's policies.
Your cooperation is greatly appreciated.
Sarge