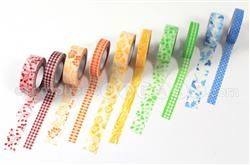 Washi Tape is so versatile, it can be used for a variety of crafting projects. Use washi tape to create beautiful backdrops on your cards, for any occasions! Use the bright colors and fun patterns on this Japanese tape to embellish cards, gift wrapping, home decor items, art or craft projects, and more.
Manor House Creations have arrived. These flowers are gorgeous. We are a proud to be one of the few USA companies to stock their amazing flowers.
Visit our New Arrivals Informatio​n pages to view these flowers an other new items arriving.