Our Combined Shipping Rates: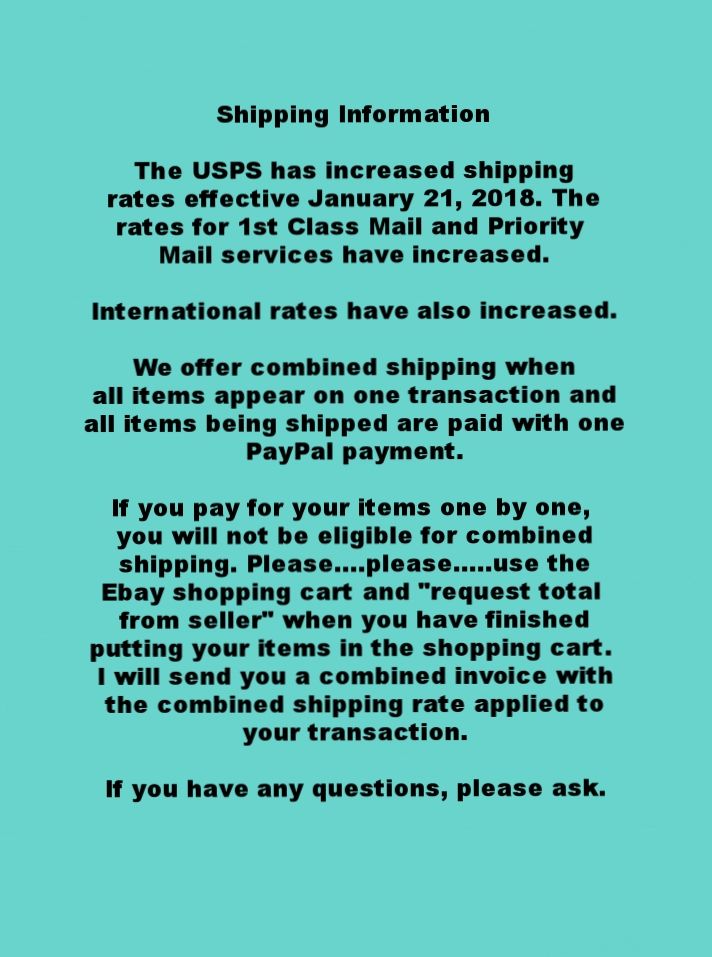 Your Invoice:
When you have finished shopping with us, please request a combined invoice. Ebay is not able to correctly combine our invoice so we will send you an invoice with the correct combined shipping rates applied. Payment is expected within 14 days of purchasing. If your payment is not received or if you request a cancellation of a purchase, a request will be made to Ebay to cancel the transaction through the unpaid item process.
Your PayPal Payment:
We accept PayPal exclusively. Because PayPal charges a transaction fee for every payment we receive, we are only able to offer our combined shipping rates to our customers when all items are combined on 1 invoice and paid with 1 PayPal payment. Please do not pay for items individually unless you want them shipped separately. When all items are combined on one invoice, all items on that invoice are shipped together in one mailer, at the combined shipping rate. We ship within 1 business day of receiving your cleared PayPal payment.
Our Return Policy
Please read the complete description for each item before making your purchase. You have 14 days from the date that you receive your item to contact us if you need to return it to us for a refund. Please contact us for our shipping address for returns before sending your item back to us. We will request that Ebay cancel the transaction releasing you of obligation for the item. We will issue a refund via PayPal of your purchase price once we receive the item in satisfactory condition and the transaction is cancelled through Ebay. If you choose not to cancel the transaction through Ebay, we will process the refund, however, there will be a 20% fee retained of the purchase price to cover all transactions fees charged by Ebay & PayPal for the purchase. The original shipping charges will not be refunded. The cost of the return shipping with delivery tracking service will be at the expense of the buyer when shipping the item back to Steel City Stitches. Please do not subject fabrics to odors, pets, smoke, moisture, or damage the fabric in any way. If the fabric has been altered, cut, sewn, or subjected to any damage or odors, we will not accept the fabric for refund and the fabric will be discarded. If you have any questions, please contact us.