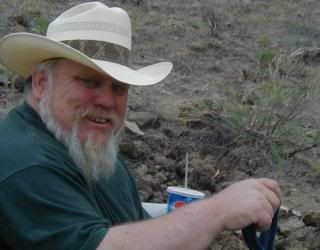 THE KALEIDOSCOPE JASPER MINES
THIS IS JUST THE TIP OF THE ICE-BERG ON WHAT THE KALEIDOSCOPE DEPOSIT HAS TO OFFER. ITS A HARD NAME TO LIVE UP TO, YET IT DOES IT WITH SUCH EASE...!!!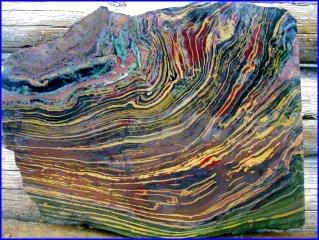 KALEIDOSCOPE JASPER (tm)2008-2017 THE KALEIDOSCOPE JASPER DISCOVERY IN THE WINTER OF 2007/2008 ON A PROSPECTING TRIP WITH MYSELF AND TWO OF MY FOUR SONS, DEREK, AND BRIAN,HERE IN OREGON, HAS PROVED BEYOND ANY SHADOW OF DOUBT TO BE ONE OF THE MOST SIGNIFICANT DEPOSITS EVER DISCOVERED IN THE NORTHWEST....WHY??? THE NAME SAYS IT ALL....
IT WAS ALL BY GUT INSTINCT THAT THE DEPOSIT WAS EVER FOUND, THAT AND FIRSTLY, THE DILIGENT PRAYERS OF MY DAUGHTER SINCE SHE WAS OLD ENOUGH TO TALK...
WE HAD SEEN THIS SPOT FOR THE FIRST TIME ABOUT 10 YEARS AGO AND ALWAYS WANTED TO MAKE THE HIKE UP AS IT JUST HAD (JASPER DEPOSIT) WRITTEN ALL OVER IT,THE TELL ALL SIGNS THAT ONE LEARNS AFTER DECADES OF PROSPECTING, BUT ALAS SO MANY FRUITLESS HIKES TO OTHER AREAS LIKE THAT KEPT US FROM EVER MAKING SUCH A HIKE...
ONE DAY THIS PAST WINTER (2008) THE SNOW HAD MELTED AND THE GROUND THAWED JUST A LITTLE, SO WE DECIDED TO GO PROSPECT AND WE WERE ALL DRAWN TO THIS AREA HAVING DECIDED IT WAS TIME ONCE AND FOR ALL TO SEE IF THE MOUNTAIN DID HOLD JASPER...
AS MUCH AS I WANTED TOO I SIMPLY COULDN'T HIKE DUE TO HEALTH REASONS SO THE BOYS TOOK OFF UP THE MOUNTAIN. THE HOURS WENT BY SLOWLY AS I PIDDLED AROUND THE RIG, HAD MUCH NEEDED QUITE TIME TO REFLECT BACK ON MY LIFE. AS I SORTED THROUGH THE MANY OBSTACLES AND HARDSHIPS OVER THE YEARS AND NOW FACED WITH MEDICAL AILMENTS THAT HAVE DISSOLVED MY QUALITY OF LIFE. AS I REFLECTED AND WONDERED JUST HOW MUCH TIME DO I HAVE LEFT, SO MANY THINGS I WANT TO DO, SO MANY CHANGES FOR THE BETTERMENT OF MAN-KIND I WANTED TO ACCOMPLISH. MY THOUGHTS EVENTUALLY TURNED TO SOME PERSONAL TIME WITH GOD...
MY LIFE'S DREAM OF A FEW ACRES OF TIMBER AND A CABIN DEEP IN THE WOODS TO RETIRE IN HAD DWINDLED LAST YEAR TO JUST WANTING A SMALL PARCEL...MAKING A LIVING MINING ROCK, HAS NO RETIREMENT PLAN.
IT WEIGHED HEAVILY THAT MY PERSONAL AFFECTS WERE ALL THE MATERIAL THINGS I HAD TO LEAVE MY FAMILY...
THIS PAST WINTER (2007/08) I COULDN'T EVEN CALL RHODESCABBIN A ROCKSHOP ANYMORE AS THE NECESSITIES OF LIFE HAD FORCED ME TO SELL MY SAWS AND GENIE CABBING UNIT...I WAS TO WORN OUT AND SICK TO RUN THE SHOP, YET I REFUSED TO GO ON DISABILITY AND TO THIS DAY I AM NOT ON IT... MY SON DEREK HAD ACTUALLY CAME UP FROM HOLLYWOOD WITH THE PLAN TO HELP MOVE US INTO A SMALL HOUSE NEAR THE HOSPITAL IN PRINEVILLE...BUT FOR SOME REASON THERE EXISTED THIS UNEASY PEACE AND DRIVE TO GO PROSPECTING ON THAT COLD WINTERS DAY...THERE WAS WAY MORE THAN AN URGE TO GO HUNT ROCKS, THIS WAS A THRIVING, PUSHING, DRIVE THAT WE MUST GO ROCK PROSPECTING...
AS I SAT THERE IN THE CAR, MY THOUGHTS KEPT RETURNING TO GOD. I COULDN'T HELP IT NO MATTER HOW HARD I FOUGHT IT, I FELT ANGER AND HURT AS I HAVE LIVED MY LIFE DOING MY BEST TO FOLLOW HIS COURSE, YES I HAVE SINNED BUT ITS HARD TO ACCEPT SEEING THROAT CUTTERS, CHEATS, LIARS, THIEVES, DOING SO GOOD ALL THE TIME. ALWAYS TRYING TO BRING ME AND OTHERS DOWN, THEY HAVE NO CLUE WHAT ITS LIKE TO TRULY STRUGGLE JUST TO EAT...THE ROCK WORLD IS NOT THE PEOPLE IT USED TO BE, TOO MANY IN IT FOR THE $$$$$. GOD ALWAYS REMINDED ME ALONG THE WAY THAT JUST AS THE BIBLE SAYS, THE RIGHTEOUS SHALL SUFFER. BUT I ALWAYS BELIEVED I WOULD ENJOY SOME TIME ON THIS BEAUTIFUL WORLD HE HAD MADE...................
AS THE HOURS CREPT BY, I CONTINUED TO SORT THOUGH MY LIFE AND KEPT FEELING A PEACE THAT ALL WOULD BE FINE. I WAS REMINDED OF THE SERMON JESUS GAVE (THE LILIES OF THE FIELD) I GLANCED TOWARDS THE RIDGE I HAD LAST SEEN THE BOYS GO OVER AND I SPOTTED THEM AS THEY SKY-LINED THE RIDGE ON THEIR WAY DOWN THE MOUNTAIN AND THE CLOSER THEY GOT THE MORE I COULD SEE THEY HAD LOADED PACKS AND SURE SEEMED IN A RUSH FOR COMING OFF SUCH A DANGEROUS SLOPE....
WHEN THEY GOT CLOSE ENOUGH I COULD SEE THEIR FACES AND ALL I COULD SEE WAS GRINS!!! THEY WERE EXCITED AND MY MIND RACED AND WORDS WERE MINGLED AS THEY BOTH TALKED AT ONCE, PHRASES SUCH AS (UNBELIEVABLE) (MIRACULOUS) (BREATH-TAKING) AND (ITS ALL OVER THE PLACE!!!) FILLED THE AIR...I HAVE NEVER SEEN THEM SO EXCITED!!! THEY DUMPED THE PACKS ON THE GROUND AND IN AWE I SLOWLY KNELT DOWN AND PICKED ONE UP, I LOOKED UP AT BOTH OF THEM AND BACK AT THE ROCK AS THEY CONTINUED TO SPEAK OF MANY DEPOSITS OF DIFFERENT ROCKS THAT DOTTED THE SLOPE...WE STOOD THERE, KNELT THERE, STOOD THERE, ALL THE WHILE IN UTTER DIS-BELIEF AND ALL AGREED A MIRACLE HAD TAKEN PLACE!!! THE NEXT FEW DAYS WERE SPENT SECURING THE CLAIM AND SURROUNDING AREA...IT WOULD BE 2 MONTHS LATER BEFORE I WAS ABLE TO LOCATE A WAY TO DRIVE UP...
I WISH DEREK HAD BEEN WITH US ON THAT FIRST DRIVE UP SO WE COULD ALL HAVE SHARED THE EXCITEMENT. I WILL CHERISH THAT DAY AS I WALKED OUT ON A SMALL LEDGE WHERE I COULD SEE MOST OF THE DEPOSITS. IT LOOKED AS IF GOD HAD GENTLY LAY HIS HAND DOWN AND BLESSED THE GROUND. I SAT BACK AND RECALLED THAT DAY TWO MONTHS EARLIER AS I SAT DOWN AT THE BOTTOM OF THE MOUNTAIN, AND MY TALK WITH GOD AND WAS OVER-COME...
I USED TO WONDER WHY MR MITCHELL AND SHIRT QUANT, BOTH WHOM DISCOVERED THE JUMPING JEEP AGATE, MITCHELL HAD WANTED HIS ASHES SPREAD ON JUMPING JEEP RIDGE, WHEREAS SHIRTS WANTED HIS SPREAD AT A FAVORITE SPOT IN THE OCHOCOS. IT WASN'T UNTIL THAT DAY THAT I COULD GRASP WHY....IT WAS SOMETHING SPIRITUAL, BETWEEN GOD AND ME AND I FELT AT PEACE, AS IF MY LIFE HAD COME FULL CIRCLE...I KNEW IT WASN'T SO MUCH THE ROCK THAT BROUGHT SUCH PEACE BUT RATHER FEELING THE EARTH BENEATH MY FEET, AND KNOWING WITHOUT ANY DOUBTS THAT THIS IS THE SPOT...THE VERY PLACE, WHERE GOD FULFILLED HIS PROMISE TO ME...<!/strong>


MY DAUGHTER MAKAYLA AT THE MINE WRITING SHORT STORIES. SHE IS THE ONE THAT HAS PRAYED SINCE SHE COULD TALK, EVERY NIGHT, THAT DADDY FINDS PRETTY ROCKS.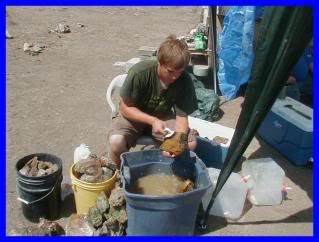 BRIAN WASHING KALEIDOSCOPE AT THE MINES. WAY TO HOT IN AFTERNOON TO DIG SO WE STAY IN CAMP WITH MAN-MADE SHADE...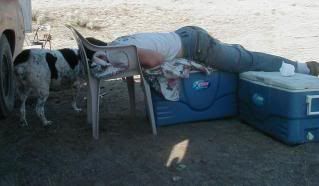 DEREK RESTING AFTER MORNINGS DIG, VERY UNCOMFORTABLE LOOKING POSITION LOL THATS OUR FAITHFUL DOG GYPSY WHO WE HAVE HAD 10 YEARS NOW SHE IS FIGHTING BONE CANCER AND THIS WAS HER FIRST TRIP BACK TO THE MINES AFTER LOSING HER FRONT LEG. AS YOU CAN SEE SHE LOVES THE KIDS...Update, GYPSY PASSED AWAY 11-13-09...THINGS WILL NEVER BE THE SAME WITHOUT HER...


ME WITH ALL MY KIDS, AUG 2009 NEAR GRANITE OREGON. FRONT ROW, MAKAYLA, MIDDLE ROW, DEREK, BRIAN, DEVIN, BACK ROW ME AND MY OLDEST, TRAVIS. ITS WAS DEREK AND BRIAN AND MYSELF THAT DISCOVERED THE KALEIDOSCOPE JASPER MINES. BUT IT WOULD TAKE A FAMILY TO MAKE IT WORK...

Above Cabs by Tony Penson shows the amazing diversity one can get from kaleidoscope Jasper!!! Pictures are Red Velvet, Gypsy Jasper, Christmas Tree, Purple Picture Jasper and more!!!
If anyone has told you Kaleidoscope doesn't cab well is no doubt confused with a plagiarizer that stole our trade name and sells his rock ( A copper mineral fluorite prism, not even an Agate) under Kaleidascope Agate, which has caused so many people much confusion and unimaginable damages to the Good Name of Kaleidoscope Jasper. As you can see from the Cabs on this page, It is a Beautiful Cabbing Jasper!!!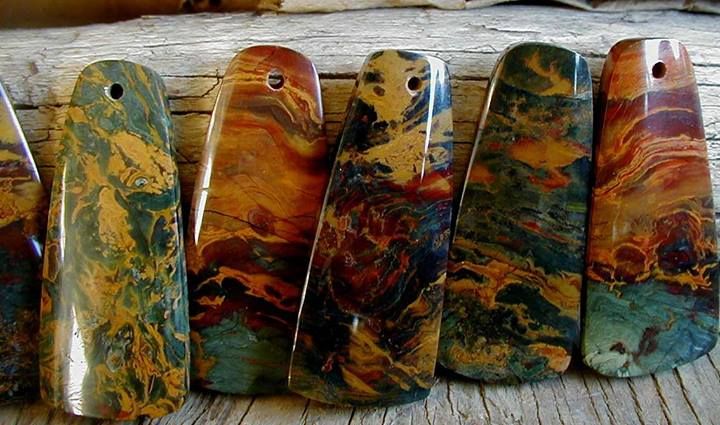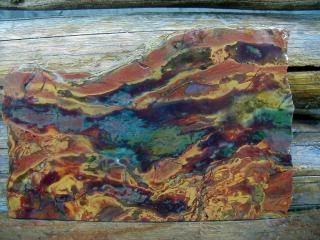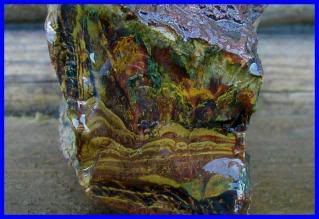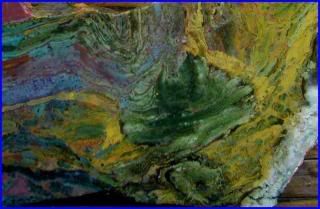 THE ABOVE SHOWS YOU A GOOD SELECTION OF JUST SOME OF WHAT KALEIDOSCOPE JASPER HAS TO OFFER. THE THREE SLABS BELOW ARE WHAT I CALL (THE GRAB AND SLAB) NO PICKING, JUST GRABBED AND SLABBED, ITS YOUR AVERAGE CAB GRADE, YET STILL LOOK AT THE COLORS THAT PRESENT THEMSELVES, SO BEAUTIFUL!!!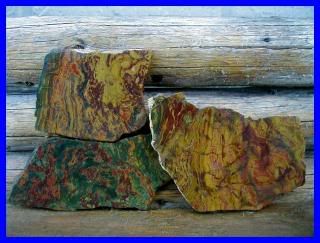 DESIGNER CAB BY ED OREKAR, HE DOES BEAUTIFUL WORK. EBAY ID STONESINMOTION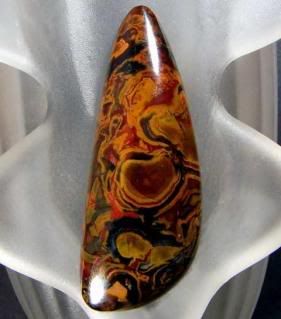 TAPESTRY KALEIDOSCOPE, BY STONESINMOTION, THE POLISH THIS STUFF TAKES IS NEVER-ENDING...
KALEIDOSCOPE JASPER AGATE DESIGNER CABS CUT FROM AVERAGE GRADE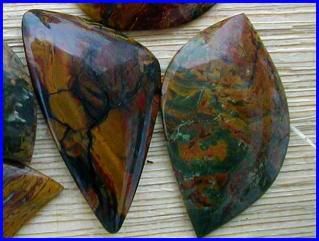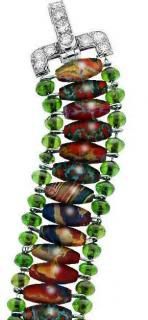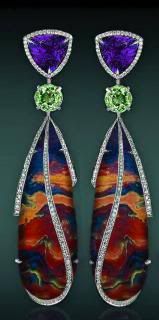 Kaleidoscope Beads and ear-rings by Tony Penson. No treatment needed on any...
Typical Kaleidoscope Jasper Cab by Austin Gems. he has been cutting kaleidoscope for about a year now and he has never had a problem. He even cut some killer Red Velvet with no treatment. His objective is to cut cabs from every variety. He was skeptical at first as some people maliciously spread baloney about kaleidoscope Jasper, he soon found out it is a magnificent Jasper and for being a hard jasper cuts very nice.
Kaleidoscope Agate, The Real Deal. 2014 we discovered our 3rd variety of kaleidoscope Agate, Green Moss with intense Greens in a Gem Clear Agate. This one was cut by Lexx Stones
Another Batch of Cabs from a stone cutter that has proved Kaleidoscope Jasper is very worthy!!! I appreciate all the stone cutters that share their pictures. I love to see the finished product and like I said, for sad reasons some sellers/miners view me as a competitor when I am not, so vicious tales being spread that K-Scope falls apart in your hands or fraught with fractures are lies being re-told...I appreciate the honest cutters so much, we all do...These stones were cut from another buyer...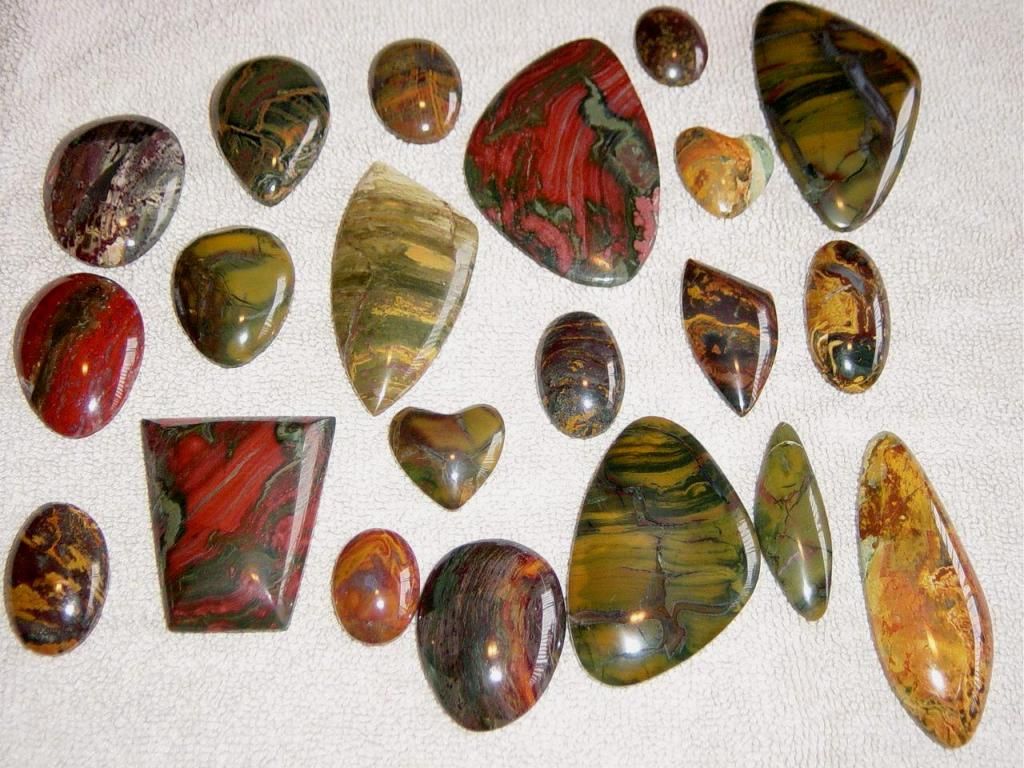 Kaleidoscope Jasper Cabs cut by Austin Gems
More of the Real and beautiful Kaleidoscope Agate by Lexx Stones
THE KALEIDOSCOPE JASPER MINES (R)TM(C) 2008-2017 Dale Rhode (R)