When Looking for a RC there is a lot to consider before making your purchase. Things to consider are the scale size, the space or terrain you want to run it on, how fast you want it to go, cost of replacement parts or hop ups, etc. Most scales of RC's can be found in the form of street cars/trucks, off road buggies and trucks. They are available in nitro and electric. Electrics are much cleaner and easier to maintain but many still love the smell of gas and the sounds you get from a gas powered motor.
Some of the more popular scales are: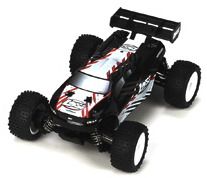 Micro's are considered to be 1/24 to 1/36 scale and are among the smallest RC's available. These are great for small spaces and smooth surfaces. They are not generally recommended for grass or rough terrains.
Mini's are considered to be 1/12 to 1/18 scale and are the next available sizes up from Micros. With the Mini's you can start taking on rough terrain and grass if you have the right ground clearance.
The best thing about Micro's and Mini's is they are very portable and are easy to travel with as they don't take a lot of room like their big brothers. Also, the cost of hop up parts and accessories are cheaper than many of the larger RC's.
The most popular RC scale is probably 1/10 and these are on of the larger RC's avaible. These rugged RC's can be driven over curbs, take on high grass and most ground cover you may find. The 1/10 scale has been around for many years and you can still purchase Build Your Own kits or Ready to Run kits which appeal to both the builder and the person just wants to go out and play right now.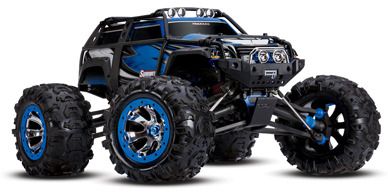 When researching RC's, you will find brands like Traxxas and HPI that are now offering waterproof cars and trucks right out of the box. As you can guess this allows you a lot more time to enjoy your hobby in the snow, sand or rain. Make sure you check to see if you RC is waterproof before you run it in wet locations.
Rock Crawlers have become a huge craze and are a very popular radio controlled truck. You can usually find competitions close to home where you can score points on your rock crawling skills. You'll often find scalers - some are crawlers and some are just having fun tearing around town and in the dirt.
A scale RC is generally a RC that looks more like a real car or truck and you can buy many accessories to bring a real look and feel to your RC.
Racing and Bashing are the common terms referred to your style of driving. Bashing is usually just tearing around the yard , going off jumps and maybe a little smas-up derby with your friends or family. Racing is something you can find close to home as there are tracks everywhere and they generally have race nights so you can test your skills against other drivers. There is a huge professional circuit that travels all over the USA just like Nascar or any other organized sport racing.
TheToyz currently has 11 national championships from our sponsored drivers in the mini scale and we hope to add more this year.