Cameo Depression Glass - Lovely Dancing Girls
I remember my first piece of Cameo depression glass.  It was a set of cups and I broke one right away dropping it on our tile floor.  Not a good introduction to this beautiful glass!


Cameo Green Depression Glass Cup Scroll Handle
Cameo Dancing Girl stole my heart way back then and it's still one of my favorite patterns.  I like the colors - green and yellow make me happy - and the design is top notch.

This oval bowl shows the pattern.  See the elegant center medallion on the base and the cameos of dancing girls around the rim all connected by scrolls and swags. Even the little tab handles have little swags.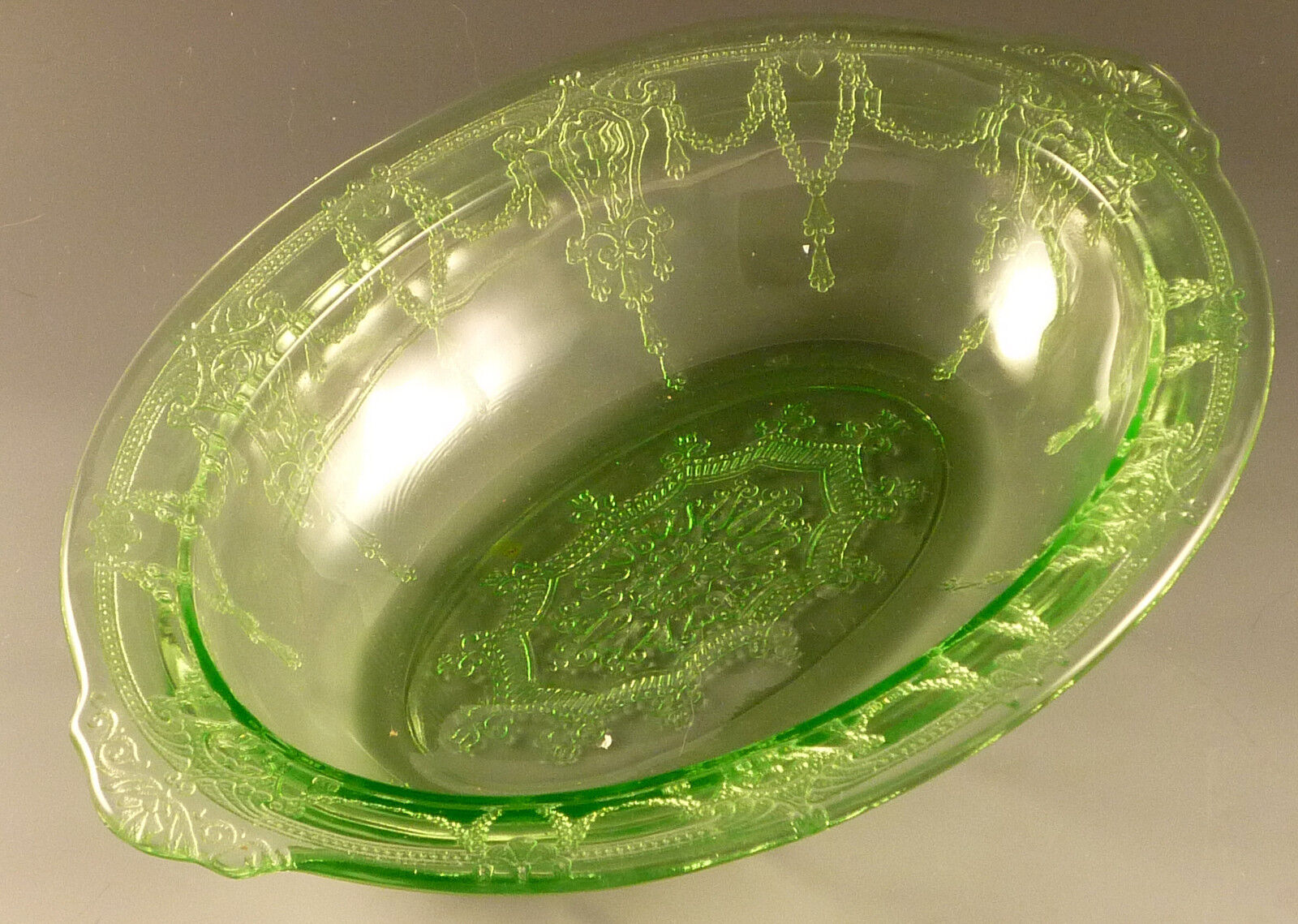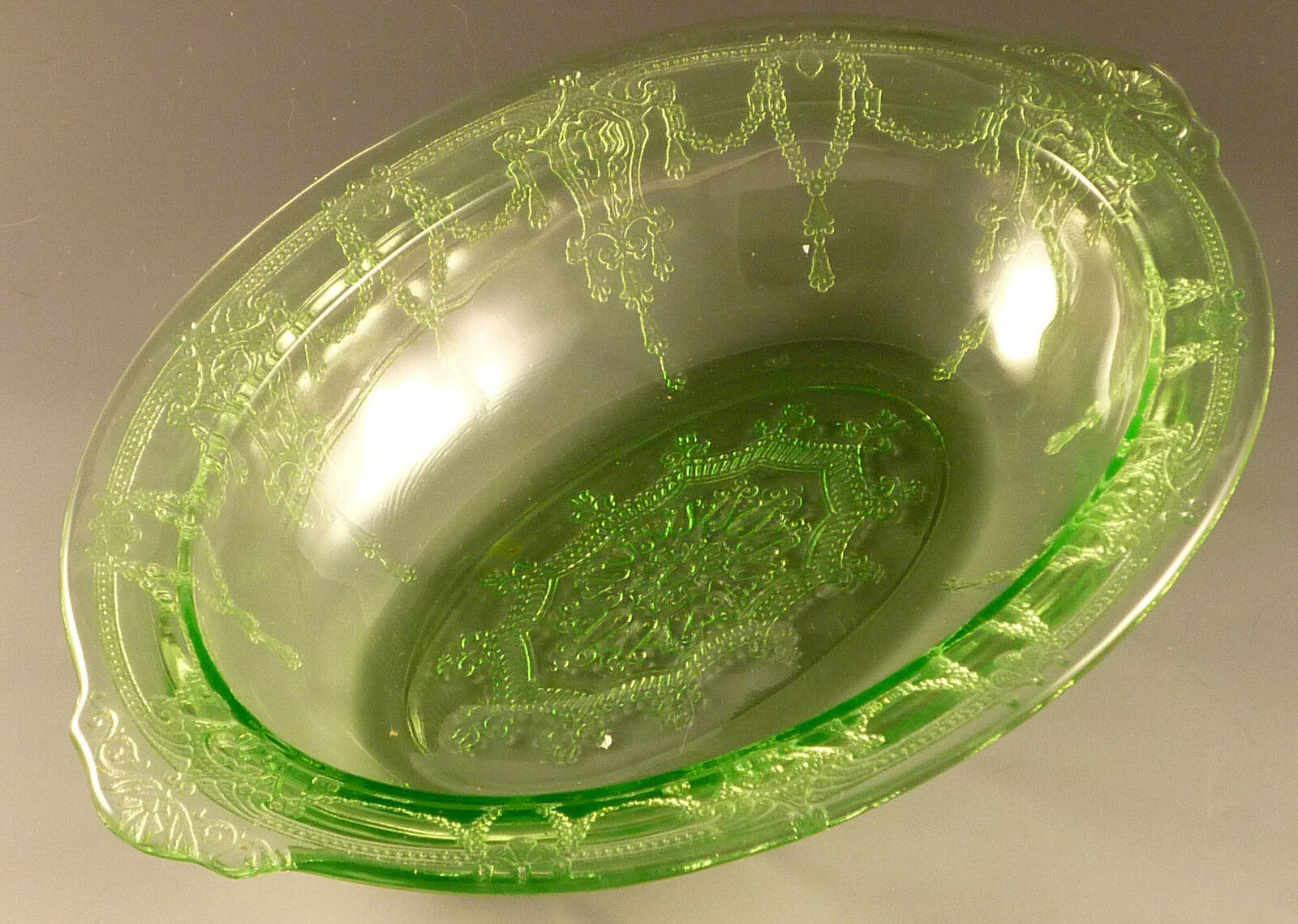 Cameo Green Depression Glass Oval Vegetable Bowl
So Many Pieces, So Much Fun to Collect
Cameo was very popular and Hocking made it 
for several years, 1930 to 1934.  Hocking mastered the marketing goal to create excitement in older product lines by continually adding new pieces.  You'll find pieces galore to choose, including variations that make Cameo such fun.
Maybe it's because of the Springtime inspiration, but Hocking made several stemmed pieces, far more than we see with most depression patterns.  I have three to show you, the water goblet, tall sherbet and low sherbet.  Besides these you can look for two sizes of wine goblets and another low sherbet.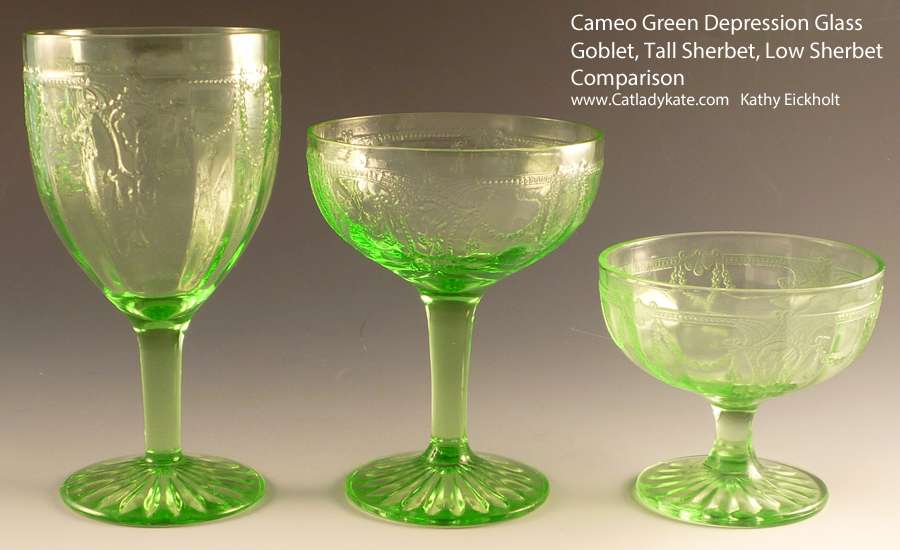 Cameo Green Depression Glass Comparison:  Water Goblet, Tall Sherbet, Low Sherbet
I counted six dinner plates and made a short video about the ones we have.  This plate is one of the interesting ones with a raised rim and tab handles.


Cameo Green Tab Handled Raised Rim Dinner Plate
Interesting Cameo Depression Glass Pieces
Hocking made so many interesting pieces of Cameo - some of which we have and I can show you here.
One neat piece is this footed compote.  It looks like a very large sherbet - but it's sized for a huge banana split!


Cameo Green Depression Glass Comport
I showed the square lunch plate above.  It's a fun piece to use for dessert too.  Most patterns had either square plates or round plates; it's unusual to find both.
Of course Hocking made a gazillion tumblers (seriously, there are at least nine).  I like the footed cone shaped one the best.  To me this shape says "Depression Glass".


Cameo Footed Depression Glass Tumbler
This is the more commonly found vase.  It's a 
great size and shape to use for flowers because of the wide mouth.  The other vase is smaller and on the rare side.


Cameo Green Depression Glass Vase
Colors in Cameo Depression Glass
Hocking made Cameo in green and yellow, plus a few pieces in pink and clear with platinum trim.  If you like yellow, I suggest you begin collecting it now as yellow Cameo is inexpensive.  The green is moderate priced and pink is very pricey.  I have seen only one 
pink piece in person as it is quite hard to find.Cameo Topaz Yellow Depression Glass Cup