First, most patterns have not been reproduced. My depression glass book has over 150 patterns and shows only 15 that have been reproduced. And most patterns have only a piece or two reproduced.
We can completely avoid reproductions by avoiding the patterns with reproductions. Or learn the few pieces that were remade in our favorite patterns, and avoid those.
Here are three tips to protect yourself.
Your best protection is to know the patterns you enjoy. Get a depression glass guide - I recommend ones by Gene Florence and Barbara Mauzy - and look for your favorites. Read the sections in the back about specific repros.
Most often the counterfeits have some imperfection that make them easy to spot.
For example, Cherry Blossom is one of the most heavily reproduced patterns. Yet you can tell most pieces by tell tales.

If you do end up with a fake, it's a good idea to keep it so you have a comparison piece. I bought repro Cherry Blossom out of ignorance and kept the dinner plate for reference.
Over time you'll gain confidence and not fall for fakes.
Tip #2. Recognize the Pieces Most Often Remade
What about those of you who don't collect individual patterns but simply seek glass that is pretty, or your favorite color or certain types of pieces?
Only a few patterns have been reproduced. Many popular patterns have never been reproduced; in fact only about a dozen patterns have been remade. And even in those patterns, usually it is only a few pieces.
Pieces most often reproduced are those that people would buy as giftware, including:
Sharon is one of the few patterns that the creamer and sugar were remade. They are rather easy to spot. Many years ago I got excited late at night and bid on a "depression glass creamer with etched roses" that looked like Sharon. When it came there was no doubt it was a fake. The pattern was off, color was off, the seams were nasty.
If you like children's dishes then be aware that Mosser Glass in Ohio made miniature pieces of Cameo for toys. These cute dishes are sold as "Jennifer" or "goes with American Girl". We specialize in Cameo depression glass and have many authentic pieces for you.
Tip #3. Avoid Reissues
Indiana Glass reissued several patterns in the 1970s and 80s, including Avocado and Madrid. They sold the re-issued Madrid as Recollection.
I have never seen Avocado in person but understand that the reissued glass colors are off or were never made originally.
Madrid/Recollection is more of a problem. The pink and blue are somewhat different colors and Indiana made a light teal and some individual pieces that were never in the original pattern line. They are easy to spot.
I can usually tell the Recollection amber when I see it in person because it feels different. That is not much help for you if you haven't had the experience with both the original and reissue.
If your favorite pattern is Madrid then I recommend you spend time at glass shows and antique malls. Look at the Madrid, read about it, get familiar with how it should feel.
The other method is to avoid this pattern. Instead of collecting Madrid, consider collecting Patrician, also called Spoke. Federal Glass made both patterns originally and Patrician has never been reproduced. It is pretty and comes in amber, green and some pink. We have several pieces of Patrician in our store.
What Pattern Pieces were Reproduced
Back in the 1970s and 80s depression glass was a HOT collectible. Unscrupulous people made counterfeits deliberately to sell as fakes.
Luckily most patterns have only a few pieces remade. Please note: Information in this section is from research done by others, including Gene Florence, Barbara Mauzy, and many depression glass experts.
You'll notice in this list the pieces reproduced were serving pieces, accessories. Everyday pieces like sherbet plates were reproduced only in Cherry Blossom and Madrid.
Adam Butter dish was reproduced. I don't have a real butter to show you.
Avocado was reissued by Tiara in colors not from the 1930s. My Tiara book shows quite a few pieces but the colors are way off. Pink is peachy, while true depression pink was pink.
Cameo Salt shaker and children's toy glasses. Hocking did not make toy Cameo; this is from Mosser Glass and is sold as "Jennifer" or "Goes with American Girl".
The Cameo shaker was remade; photos show it with too much glass in the base. I don't have a fake shaker set to show you; instead show the real shaker set. You can see there isn't much glass in the base.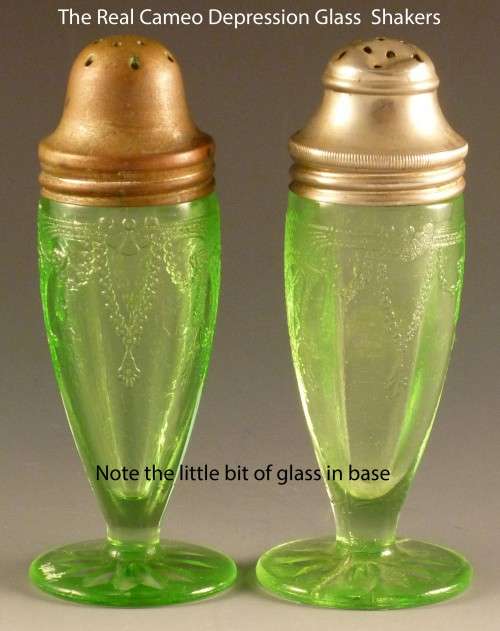 Real Cameo Depression Glass Shakers
Cherry Blossom Many pieces were reproduced. I suggest you select a different pattern until you feel comfortable with buying glass. Most pieces have tell-tale signs you can watch for to discern real from fake.
Floral Poinsettia Shaker was reproduced. Per Florence, check where the tops screw on. The old have two threads that wind around and the new have one thread. I have not seen these myself. Poinsettia is another pattern we keep in stock for you.
Florentine Poppy 1 Shaker was remade.
Florentine Poppy 2 Pitcher was remade. Here is the real pitcher.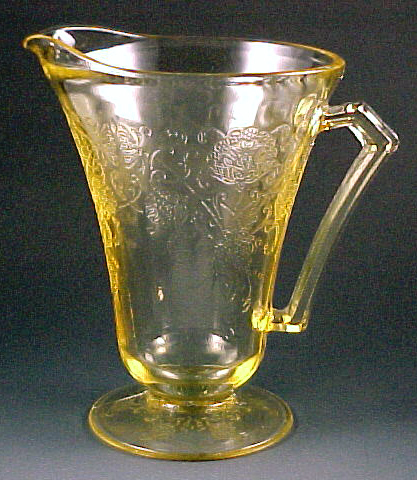 Real Florentine Poppy 2 Pitcher
Iris Tumblers, plates and coasters were remade.
Madrid Sadly, many pieces were remade. Some are very easy to spot but a few are tricky. I can tell when I see it in person but a photo is very hard to tell. I recommend you collect Patrician instead as it is also pretty and comes in amber, pink and green.
Mayfair Cookie jar, pitcher and shot glass were reproduced. I have seen the cookie jars and they are horribly made, too small, wrong colors, mediocre workmanship and weak pattern. You are not likely to be fooled by these. You can shop our Mayfair here and be confident it's the real thing.
Miss America Several pieces were reproduced and you should get a book to learn the differences if this is your favorite pattern. I have not seen the fakes and I don't think they are real common. We usually have Miss America in stock.
Princess Candy jar was reproduced in cobalt blue and amber. Apparently the new jar was poorly made. Here is the authentic jar.
Princess Green Depression Glass Candy Jar
Royal Lace Cobalt blue and pink cookie jar, juice and water tumblers were reproduced. Royal Lace is an expensive pattern that you'll want to get more information about before buying many pieces. My book recommendations are below.
Sharon Butter dish, cheese dish, creamer, sugar, candy and shakers were reproduced. One time I was up late browsing eBay and saw a "green depression glass rose creamer". I wasn't thinking (what can I say, I turn into a pumpkin after 10:30) and ordered the blasted thing. It was a reproduction and a terrible
one. Color was a deep emerald green and glass was nasty, no other way to describe it.
You aren't likely to be fooled by Sharon repros more than once. Florence's book has great information about these pieces which are easy to spot
Remakes - Imitation is the Sincerest Form of Flattery
Others liked the pretty designs and made pieces that were similar. The Vermont Country Store currently sells red "Depression Glass" plates from Mosser. You can tell they are new from the catalog description and Mosser marks their glass.
You can find lots of cute butter dishes that are styled like depression glass. You may find them at flea markets or even at antique malls. We saw a Cherry Blossom butter dish that was more a "Cherry Styled" butter dish as it looked nothing like the real one.
I did a quick search for depression glass reproductions for sale and found sites carrying kitchen glass, novelties like animal dishes, shakers. Martha Stewart had a line of Jade-ite kitchen ware that sparked a resurgence of interest in Jade-ite. And you'll find lots of colored kitchen ware that is called "depression glass" on eBay. Just be aware that not all colored glass is truly depression glass.
One last point. Even authentic depression glass has some variations. Doric and Pansy ultramarine color varies from greenish to bluish. Princess topaz varies from yellow to a deep apricot. This glass was made in the 1930s, long before quality control. So don't be too concerned if your piece is slightly different color or even slightly different size. That does not always mean it is a repro.

Book Recommendations
Get to know the patterns you enjoy. Get a depression glass guide - I recommend ones by Gene Florence and Barbara Mauzy - and look for your favorites. Read the sections in the back about specific repros.
This first book is the final Depression Glass encyclopedia from Gene and Cathy Florence.
They wrote several series on glass, this one went through 19 editions! The book includes pictures of each pattern and individual pieces are noted. That is real helpful when you aren't sure the difference between the butter and the candy!
The section on reproductions is in the back. I would have liked to see both the real and the fake pictured together for reference. Florence's descriptions are good enough that you can feel confident when you follow the tips.
Collector's Encyclopedia of Depression Glass, 19th Edition
Florence's book is a pattern guide. That means it covers glass produced in patterns, usually for dinner or lunch. It does not cover miscellaneous decorative glass or pieces like figurines or shoes.
Barbara Mauzy also wrote several glass books including this one. Her photos are excellent and she gives good information about each pattern. Like Florence she includes information about reproductions and tips to spot real vs. fake.
Mauzy's Depression Glass: A Photographic Reference with Prices
Ms. Mauzy includes descriptions of the reproductions on the main pattern page. You may find that more convenient. Her tips are easy to follow.
Conclusion....
Most often the counterfeits are easy to spot when you know what to look for. Plus, once you see and feel authentic depression glass, you will get a sense for it. Then fakes just don't feel or look right and you will know that.
If you have a fake, then mark it and keep as a comparison piece. I bought repro Cherry Blossom out of ignorance and kept the dinner plate for reference.
Over time you'll gain confidence and not fall for fakes.