HOW TO SELECT, CLEANSE AND PROGRAM CRYSTALS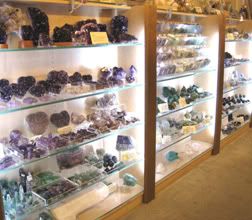 How to Get Started

Start out where you are…if you can see crystals in person at a shop, then go there with an open mind and just "feel." Don't let anyone sell you a crystal you don't really love…or that you cannot afford.

The crystal should feel clean, clear and energetic. If it is faded, cracked, dusty or it just doesn't feel "right," pass on that stone. It will usually never get better. Sometimes crystals in shops fade because of excess sunlight or the energy in the store is negative. In that case, find another shop or shop online with a trusted crystal therapist who can help you find what you need.

See what attracts you to a crystal – is it color, shape, energy, the way you feel emotionally, physically. Then do a little research on that crystal type and find out its characteristics. If you find yourself attracted only to Jaspers (which are deep healing stones, stabilizing and suited to the lower 3 chakras) then start there. Once you have some experience using the stones you like the most, then start expanding yourself into different types.

Some basic things to look for

Quality. There is just no substitute for quality. Sometimes price will give you a clue. But often, a high quality crystal tumbled stone can be very reasonably priced. This is something you will learn to spot with experience. Your intuition will usually let you know if the crystal is a quality one or not. Just because you may not be familiar with its name or qualities, doesn't mean you will not be able to spot a good stone.

Price. Never, never, never buy crystals just on price. You are likely to be disappointed and will regret it. Buy what you can afford, but do not ever buy a crystal just because it is cheap. It would be better not to buy anything if quality, color and suitability are not there first. One small quality stone is worth a ton of inferior stones any day.

Source. By far one way to know if the stones you are looking at are likely to be good quality is to find out if they are hand-picked by a crystal therapist or professional crystal buyer who has been trained in metaphysical healing (like a Reiki master). Beware if the stones are just being sold by a distributor who has no clue or really cares about their metaphysical energy. This is important because the market is flooded with low quality crystals, many of them mined under inhumane conditions and price is the only concern. You can almost immediately see these types of stones. Their quality and clarity is muddy, not bright and clean. They are not beautiful at first glance. They do not stand out and speak to your soul. These are inferior stones, which should not be placed on the body or around the home environment. They could actually cause worse symptoms in some cases. Better to use nothing than an inferior stone. If you are not truly excited about a crystal, its beauty, clarity and energy…then walk away. The right stone will come to you.

Color. This is by far the easiest characteristic to assess. (If you are color blind ask a trusted friend to help you.) Stones should NOT look faded or cracked. Ever. Compare the stones you are assessing with color pictures in a good crystal book. All of Judy Hall's books are excellent guides.

Size. If you are buying crystals for a room and Feng Shui, try to get the largest clusters or specimens within your budget. You can always get larger crystals later; it is better to spend your money on quality first. When purchasing crystals for body layouts and healing, be sure that the size and shape is going to fit on the area of the body you want to use it on. So for example, if that Amethyst is going to sit on your forehead for meditation, it should be smooth on at least one surface so your skin is not irritated. And it should be flat enough to sit there without rolling off and definitely not too heavy. Stones that are going to be held in the hands for meditation should be of the right size, shape and smoothness.

Suitability. There are some stones that just work better for some purposes than others. An example -- use Amethyst and its calming energy for insomnia instead of using it for increasing sexual energy – it won't hurt, but it is probably not going to help either. Citrine or Tigereye or Carnelian would be better suited for a healthy libido. For circulation, Bloodstone or Malachite are good choices, while Larimar and Onyx are unlikely to make much difference.

Combining Crystals

This is an area where some people are easily confused. Here's a rule of thumb: use clear quartz crystal to amplify or cleanse the energy of any other crystal. In general, you can combine related color families together for healing. Green and blue, pink and purple, red and gold, earth tones etc. Bind them together with small clear crystal points. In general, you cannot make a mistake in combining crystals if you are open to your intuition and common sense.

There are only a very few cases where a certain crystal could amplify a problem. Moonstone for example is better NOT used by overly sensitive people during a Full Moon. Heart patients who find that Malachite makes their hearts race, should probably not use it on their chest area. If a crystal feels too "intense" remove it and use a different one for the time being. Often, you can go back to the original crystal after some healing has happened.

Finding Professional Advice

Until you have practical experience in crystal healing, it is money and time saving to attend a class, consult with a crystal therapist or Reiki Master and/or read a good book by Judy Hall on the use of crystals.

How to "De-Commission" a Crystal

If you have inadvertently purchased an inferior stone, if it cracks or the energy is negative for you, then bury the stone in the earth or put it into the ocean, river or deep lake. Do not give away this type of stone. Give it back to the earth with gratitude and let Mother Nature take care of it.

It is always good karma to give someone else a gift of a quality crystal. If you receive one that you don't like for any reason, but it is still a nice stone, you can re-gift it to someone who does like it or sell it at auction etc. But do not keep a stone that is not right for you.