Glossary:


Boshi: The hamon in the point area of the sword
Yokote: A line which is perpendicular to the cutting edge. The yokote defines the point area by making a clear demarcation between the point and the body of the sword
Ko-Shinogi: The part of the shinogi which extends through the point area of the sword
Mitsukado: (Literally,"three corners") the point where the yokote line meets the shinogi
Iori: A two surface back or (mune) of the sword. The two surfaces slope back from the sides of the sword and meet in a single sharp ridge on the top (mune) surface of the blade
Mune: The top surface back of the blade
Shinogi: The ridge line running along the length of the sword parallel to the cutting edge. The thickest part of the blade is the section through the shinogi
Shinogiji: The flat surface of the blade between the shinogi and the mune
Hamon: The visible pattern formed by the hardened cutting edge against the body of the blade. Hamon is the border line between the hard cutting edge and softer flexible part of the blade. It is emerged through Japanese traditional clay tempered quencher method
Hasaki: The cutting edge of the blade
Ha: The cutting edge of the blade between the hamon and hasaki
Machi: A notch or extension at the top of the tang (Nakago) of the blade. This notch is formed where the blade widens out from the tang (Nakago) to form the cutting edge (the hamachi) or the back (mune) surface of the blade (munemachi)
Mekugi Ana: The peg holes on the Nakago
Nakagojiri: The tip or bottom of the Nakago
Mountings: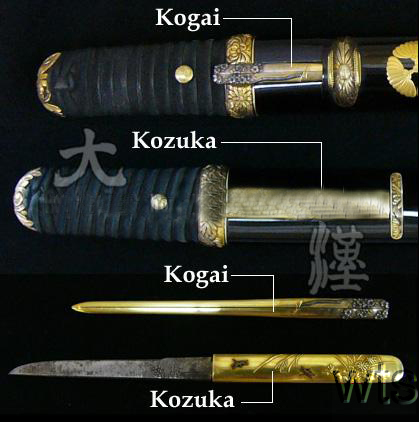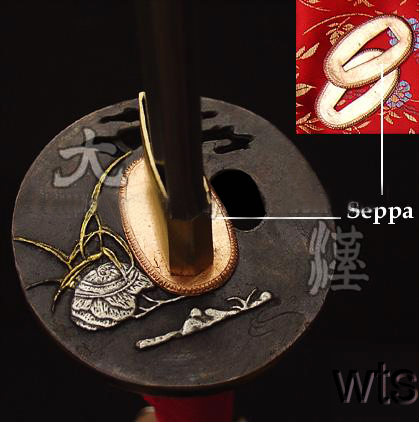 Kurigata: Protuberant wood or metal part on the surface of the saya. It is the cord which surrounds the scabbard and can be tied to sageo
Sageo: It is the cord tied to the saya. Samurai in the past used this and tied it to their belts to avoid others taking the sword from behind.
Tsuba: The guard protects the palm of the hand when holding the sword. It is made of steel, copper, silver or some other metal. There are many people who collect tsuba because of beautiful craftsmanship displayed in their construction
Fuchi: Pommel of the tsuka behind the tsuba
Kashira: Pommel at base of the tsuka
Menuki: Hilt ornaments. A hilt has a pair of menuki. Some of the pairs have identical designs, but some consists of companion or counterpart designs.
Samegawa: It is the fish skin taken from a stingray or shark from Asia ocean. Samegawa is then soaked, wrapped and glued around the wooden hilt. It is very abrasive stuff. Please view following whole stingray skin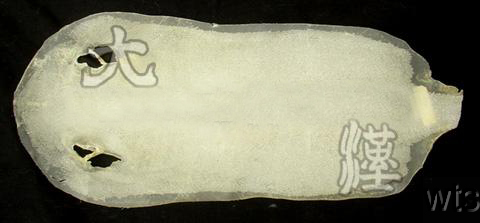 Mekugi: Rivet hole of the hilt
Sayajiri: End part of saya
Kojiri: Metal fitting to protect sayajiri from kissaki hits
Habaki: Collar. In order to prevent the blade from rattling in the scabbard, it is inserted in a wedge-shaped collar. A properly made collar wedges firmly inside the mouth of the scabbard to prevent the blade from rattling and from slipping accidentally out of the scabbard
Seppa: 2 metal spacers or washers placed on the 2 sides of the tsuba
Kogai: The implement as a comb and split chopsticks
Kozuka: Utility knife which placed on the groove of the mouth of the scabbard